Joined

Oct 23, 2019
Messages

52
Location
My XLR/V(s)

2007 Raven Black XLR-V
So happy with everyone's input on the forum, thanks fellas. Figured I run this through you guys as well, as it has me scratching my head. Any help would be so much appreciated. It gets to 47 degrees Celsius over here and it really is a Sauna with a Supercharger on it.
Here's the situation:
The outside temperature sensor is not giving a correct reading. So I replaced part #10248414, which was the ambient air temperature sensor located next to the horns on the left side in front of the radiator. The sensor still gave erratic readings.
I am looking on the touch screen, and see it pointing to 24C, which is far from the truth since it's +40C outside.
I kick on the A/C and set it to 16C, go about my way and watch the outside temp readings. Since it seems like the compressor will only kick in if it's really hot outside, so there's a calculation happening there based on the readings of this ambient air sensor.
When it's reading +30C outside, the compressor kicks in and I get nice cool air. But the sensor might suddenly drop and read NEGATIVE 40C! (-40C) so the "ICE POSSIBLE" warning appears on the dash. Basically start getting very hot air from the vents, even though I have A/C on with temp set to 16C. My assumption is it's referencing the outside air temp and trying to regulate cabin temp UP to 16C, therefore shutting off the compressor and blasting hot air.
Ok, since the sensor itself was not the issue, I threw on the Tech2 and found the following issues.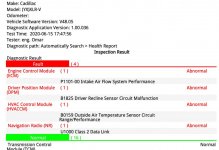 So there's an issue with the circuit, apparently. I also realized, the two horns are on the same harness, and I think my high note horn is not working. (whichever the one is to the back is, not working). The real question is, what and how do I go about fixing this?
I already have the front bumper and headlights off, but am not an electric guru so don't know where to start.
ِAny pointers?