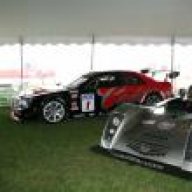 Joined

Oct 16, 2008
Messages

3,843
Location
From Corvette Blogger.com:
GM: Next-Generation Corvette C7 Expected in 2012 as 2013 Model
​
In a move to shore up public confidence following its stint in bankruptcy court, General Motors on Tuesday unveiled its 2-year product plan for the four core brands: Chevrolet, Cadillac, Buick and GM. Included in the Chevrolet news is that production of the C7 Corvette will start in April 2012 for the 2013 model year. GM also added that the Corvette will maintain the front-engine layout that has defined the sports car for 57 years.
This is great news as earlier estimates had pushed back the C7 through 2014. This also means that the Corvette Team will now have the resources and the corporate edict to move full speed ahead on a new design that could see changes to America's sports car that include a smaller, lighter body, greater use of advanced weight-saving materials like carbon fiber, aluminum and magnesium and perhaps a smaller engine but one that will still provide the power-to-weight ratio that Corvette owners have become accustomed to. Superchargers for everyone?
At the Birthday Bash earlier this year, Corvette Chief Engineer Tadge Juechter reassured the enthusiast gathering that the team is always thinking about the next generation Corvette and how to make it better. Now that the mid-engine layout has once again been tossed aside, Tadge's engineering team will have essentially just a couple of years to make these engineering decisions and test them in mules which we could see as early as 2011.
As for the actual design of the car, prior this summer we believed the new C7 will again be more of a transition of the C6 body style. However, the public and Corvette enthusiasts were immediately smitten with the Transformer's Corvette Stingray Concept introduced earlier this year at the Chicago Auto Show. Perhaps the design team will see that owners would accept more of a radical departure from the looks of the C5/C6.
1 Attached Images
<!-- end of AOLMsgImgInlineRenderPart_4_1245383f-7fae-4455-82ba-b09e890d51a4 --><STYLE _zipIdx="96">.AOLWebSuite .AOLPicturesFullSizeLink { height: 1px; width: 1px; overflow: hidden; } .AOLWebSuite a {color:blue; text-decoration: underline; cursor: pointer} .AOLWebSuite a.hsSig {cursor: default}</STYLE><LINK rel=stylesheet type=text/css href="http://o.aolcdn.com/cdn.webmail.aol.com/44054/css/microformat.css" _zipIdx="96">