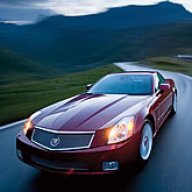 Seasoned Member
Staff member
Site Administrator
Joined

Oct 7, 2006
Messages

5,442
Location
My XLR/V(s)

Not yet!
I thought I'd take a minute and post an update on the status of the 2004 - 2009 Cadillac XLR Registry.
As of right now, every single Cadillac XLR Vehicle Identification Number has been entered into the Registry.
Production information including build dates, Original Invoicing / Shipping Dealer and a list of Regular Production Option Codes have been added for every single 2004, 2005, 2007, 2008 and 2009 Cadillac XLR and XLR-V.
Production information for approximately 50% of the 2006 XLRs have been added. I'm currently working on the remainder.
Once I've finished entering the rest of the production information, I'll be revamping the Registry an incorporating greater search functionality, etc.
Right now, you can search the Registry and determine how many XLRs, or XLR-Vs were built with the exact options that your car has.
Once I finish the 2006 model year, I'll post an update in this forum.
Cadillac XLR Registry for 2004 - 2009 Cadillac XLRs and XLR-V