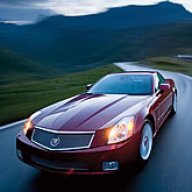 Seasoned Member
Staff member
Site Administrator
Joined

Oct 7, 2006
Messages

5,451
Location
My XLR/V(s)

Not yet!
Consumers Select Cadillac As Top Brand In Autopacific Study
FOR RELEASE: 2009-05-19
Consumer Survey Rates Cadillac Top Brand; Escalade Tops Luxury SUVs
DETROIT – Cadillac was selected as the top brand in overall vehicle satisfaction in a survey of new vehicle buyers released today. AutoPacific's 2009 Vehicle Satisfaction Awards, generated from the experiences of actual new car and truck owners, named Cadillac as Top Brand for the second consecutive year.
The Vehicle Satisfaction Award (VSA) objectively measures how satisfied owners are with their new car or light truck, and reflects the opinions of more than 25,000 consumers nationwide.
"Cadillac is extremely proud of this award since it is based on the real experiences of new vehicle buyers ," said Mark McNabb, vice president Cadillac. "This feedback from actual owners underscores our commitment to excellence in product and customer service."
In addition to Cadillac's overall award, the Cadillac Escalade was the VSA category winner in the Luxury Sport Utility segment. Cadillac has been rated among the top five overall brands all 13 times the annual survey has been conducted.
AutoPacific's research measures owner satisfaction across specific areas related to a vehicle's operation, comfort, safety and the overall purchase/lease experience. The 2009 ratings reflect input from buyers and lessees of new vehicles acquired September through December 2008. AutoPacific is an automotive market research and consulting firm that publishes a variety of studies annually on the industry.
"Vehicles that score highest in AutoPacific's Vehicle Satisfaction Awards have hit the mark delivering value and satisfaction with the buyers by performing well in 48 separate categories that measure the ownership experience," says AutoPacific president George Peterson.
# # #
About Cadillac
Cadillac is a division of General Motors Corp., and a leading luxury auto brand since 1902. In recent years, Cadillac has engineered an historic renaissance led by dramatic new designs and global expansion. More information on Cadillac can be found at
www.cadillac.com
.
CONTACT(S):
David Caldwell
Cadillac Communications
Phone: 313-665-7252
E-mail:
david.caldwell@gm.com
Klaus-Peter Martin
Cadillac Communications
Phone: 313-667-8600
E-mail:
klaus-peter.martin@gm.com
AutoPacific
(
www.autopacific.com
)
Dan Hall
E-Mail:
dan.hall@autopacific.com
Deborah Grieb
E-Mail:
deborah.greib@autopacific.com