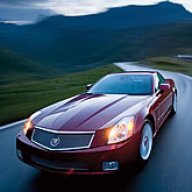 Seasoned Member
Staff member
Site Administrator
Joined

Oct 7, 2006
Messages

5,442
Location
My XLR/V(s)

Not yet!
Deal on $15 billion auto bailout
White House, congressional Democrats reach agreement that could bring quick vote on stopgap rescue plan.

By Chris Isidore, CNNMoney.com senior writer
December 10, 2008: 11:48 AM ET
NEW YORK (CNNMoney.com) -- The White House and leading congressional Democrats have reached an agreement on legislation to provide a stopgap bailout to U.S. automakers, according to officials from the administration and Congress.
White House Deputy Chief of Staff Joel Kaplan cautioned at a press briefing that he had not seen the final language of the bill but said that great progress had been made on bridging differences with congressional Democrats.
Kaplan said administration officials would push reluctant Republican lawmakers to support the deal.
A vote could take place in the House as soon as Wednesday, according to House Majority Leaders Steny Hoyer, D-Md.
The move could provide the $15 billion cash that General Motors (GM, Fortune 500) and Chrysler LLC would need to avoid filing for bankruptcy later this month or early next year, allowing them to continue operations through the end of March and letting the new Congress and new administration reach an agreement on a longer-term solution. It also will give the companies time to negotiate with creditors and the United Auto Workers union on additional concessions that would be needed to stem their ongoing losses.
Ford Motor (F, Fortune 500), which has more cash on hand than its U.S. rivals, is not expected to tap into this bailout, at least in the coming months.
The agreement came after Democrats dropped a provision in their previous draft of the bill that would prohibit automakers getting help from continuing their support of lawsuits against states that have drafted more stringent emission standards than current federal rules.
"We do not believe there was any chance the legislation would pass if that provision remained in," said Deputy White House Chief of Staff Joel Kaplan at a briefing at the White House Wednesday morning.
The path to a vote in the Senate is less certain. Some Republicans have threatened a filibuster which could delay and even potentially block a vote on the bill. Senate Minority Leader Mitch McConnell said on the floor of the Senate that there was no chance that there would be a vote in that chamber Wednesday.
CNN Washington staff contributed to this report