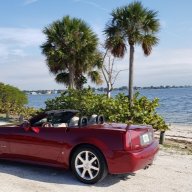 Joined

Feb 14, 2021
Messages

5
Location
My XLR/V(s)

2006 Cadillac XLR - Base
Hello all, I hope someone out there can help me out with a situation that I unfortunately brought on myself.
I just purchased a very clean 2006 XLR with factory stereo that has the bose amp. The stereo worked fine with exception of a "cd error".
I took the unit out, separated and disassembled the cd player thinking (hoping) there were cd's jambed causing the error which would have been a simple fix. Not the case, the drawers were misaligned so I manually aligned them on the work bench and thought maybe that would fix it. Here's where I messed up, instead of reassembling the entire unit, I left it half assembled, plugged it all back in to see if it worked and the cd played circuit board touched the metal case, smoke a little and blew the radio fuse. Uhhhg, my stomache dropped. At this point I reassembled it fully and reinstalled it and replaced the fuse. So now the radio comes on with all functions ie AM - FM - XM etc but I have no sound. I am hoping there is a separate fuse for the bose amp but cannot find one and I do have power going to the amp. I think I fried the radio. Just going out on a limb to see if just maybe someone else has done the same thing and or a possible fix. I wouldn't be opposed to putting an aftermarket stereo in but would be confused due to the bose amp. Any thought's would be appreciated.