Joined

Feb 6, 2018
Messages

42
Location
My XLR/V(s)

2005 Black raven / Shale
Hi Everyone,
So I've already posted a brief history of this in the New Member Introductions a few weeks ago but I'll repeat it here now but with way more details and pictures as I work on this project.
"Been looking at this forum for years on and off and had been looking for a rebuilder XLR for just as long. Done quite a few salvage/rebuilders over the years and since I've always done well with them I figured probably the only way I'd ever get into an XLR would be to do it that way. Besides I kind of enjoy rebuilding them, a little bit of a hobby. Never done one to make money on, just for our own use.
Only ever seen a few XLR's on the road since they were new and never actually seen one in person.
Looked at quite a few over the internet but after lots of research realized most are either missing way to many expensive parts or just too much damage.
Finally spotted one a couple weeks ago at an insurance auction and it was such a good price I snapped it up. Damage looked pretty minimal but sight unseen besides in pictures is always risky and this was no exception. There's usually a good reason they are salvaged!
Buying was easy but shipping was a whole different story. Anyway finally arrived yesterday, dead
battery
, window open like 2 inches, locked up and keys laying on front seat!
Thanks to reading up on the forum I was able to fish keys off seat with a coat-hanger and get into trunk and
pop open door
.
Got it unloaded after some major hassles since it had 3 flat tires and a broken front spindle and A arm.
Have quite a few of the parts I need and a few coming in a couple days and looking forward to get it moving on its own.
I'm sure I'll have plenty of questions on this car but just to finally have one is unbelievable! Nobody I've talked to here has really even seen one or known what it is and it's all new to me too.
Anyway, looking forward to this project!"
So that was my first post but pretty much said it all.
Anyway, this was my first view of the actual car! Like I said, I had never seen one in person and only maybe a couple on the road ever.
I have friends that have a small car lot and a flatbed and said they would help me get the car off the hauler luckily.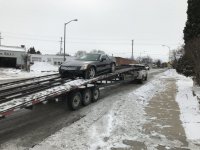 And this was how we had to get it off the trailer!
Was not fun. It was so low on the trailer and the tires refused to air up as they obviously had been flat for a while. We were just trying to get it off as the driver had to get going and I had to get to work. With the right front tie rod broke off the spindle I had to keep straightening out the wheel as we winched it forward. Also the radiator and condenser were just hanging and I wasn't sure why but of course they ended up getting caught in the trailer framework even though I was watching and trying to push them up as we winched it. Obviously they had been damaged some already as they were bent up pretty good previously but this sure didn't help. Regardless we got it off and on the flatbed. I was able to leave it parked on the flatbed for the rest of the week so I was going to come back the next day and look it over.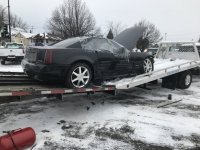 This is the worst of the damage. Didn't really know the extent of it at this time but still looked pretty minor compared to some I've seen and also compared to some other projects I've done.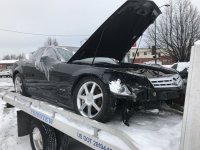 Before I left we opened the hood and looked it over. The car was listed as non running but knowing how auction cars are I was hoping it wasn't anything serious. We looked in fusebox and sure enough someone had pulled all the relays out and scattered them all over the engine and everywhere else under the hood. Made some good guesses where they should go and put a jump pack on it and sure enough, started right up and sounded good!
There is hope!
Kevin