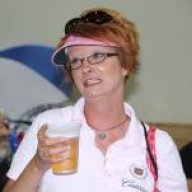 Joined

Oct 17, 2008
Messages

2,588
Location
My XLR/V(s)

Cubby's, RIII Attendee, Midwest Marauder Alcohol Czar
By reading this article I thought Ford did something right and seen the writing on the wall. I thought it was worth posting.

DEARBORN, Mich. - Helped by a lightened debt load, Ford Motor Co. posted a surprise second-quarter profit of $2.3 billion Thursday, following the worst loss in company history a year earlier.
The net profit ends a string of four straight quarterly losses for the nation's second-largest automaker, which has gained U.S. market share at the expense of crosstown rivals Chrysler Group LLC and General Motors Co., both of which spent time under bankruptcy court supervision. Ford last went into the black in the first quarter of 2008, with net profit of $70 million.
However, excluding its debt reduction and other items, Dearborn, Mich.-based Ford would have reported a quarterly loss, though smaller than Wall Street expected.
Unlike GM and Chrysler, Ford avoided bankruptcy and government loans, mainly by borrowing or setting up credit lines totaling $23.5 billion in 2006 and 2007 to prepare for an economic downturn. Since then the company has cut costs and rolled out new vehicles, mitigating its sales decline in the worst auto sales market in more than a quarter-century.
Aaron Bragman, an analyst for the consulting firm IHS Global Insight, attributed Ford's progress to restructuring and product improvements made under new CEO Alan Mulally, who was hired away from aircraft giant Boeing Co. in 2006. Mulally also made the decision to borrow the money before the credit markets froze.