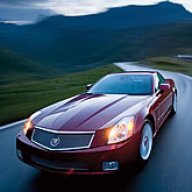 Seasoned Member
Staff member
Site Administrator
Joined

Oct 7, 2006
Messages

5,451
Location
My XLR/V(s)

Not yet!
GM Announces Significant Production Cuts for Q1 '09
Moves In Direct Response to Rapidly Deteriorating Market Conditions
DETROIT - General Motors announced today a significant reduction of planned production for the first quarter of 2009 due to the ongoing and severe drop in industry sales, which were down 36 percent in November overall and 41 percent for GM (2007 vs. 2008). The impact of these and recently announced actions to adjust production with market demand, will result in the temporary idling of approximately 30 percent of GM's North American assembly plant volume during the first quarter of 2009 and will remove approximately 250,000 units from production.
The speed and severity of the U.S. auto market's decline has been unprecedented in recent weeks as consumers reel from the collapse of the financial markets and the resulting lack of credit for vehicle financing.
The following U.S., Canada and Mexico operations impacted by today's announcement include:
U.S.:
Ft. Wayne (Ind.) - Chevy Silverado, GMC Sierra Light Duty Regular and Extended Cab
Flint Assembly (Mich.) - Chevy Silverado, GMC Sierra Heavy Duty Regular and Crew Cab & Medium Duty
Wentzville (Mo.) - Chevy Express, GMC Savanna
Lansing Delta Township (Mich.) - Buick Enclave, GMC Acadia, Saturn Outlook
Pontiac Assembly (Mich.) - Chevy Silverado, GMC Sierra Heavy Duty Extended Cab
Spring Hill (Tenn.) - Chevy Traverse
Fairfax Assembly (Kan.) - Chevrolet Malibu/Hybrid, Saturn Aura/Hybrid
Arlington Assembly (Texas) - Full Size SUVs: Chevy Suburban, Tahoe & Tahoe Hybrid, GMC Yukon, Yukon XL & Yukon Hybrid, Cadillac Escalade/Escalade ESV & Escalade Hybrid
Lansing Grand River (Mich.) - Cadillac STS & CTS
Orion (Mich.) - Chevy Malibu, Pontiac G6
Detroit-Hamtramck (Mich.) - Buick Lucerne, Cadillac DTS
Shreveport (La.) - Chevy Colorado, GMC Canyon, Hummer H3 & H3T
Bowling Green (Ky.) - Chevy Corvette, Cadillac XLR
Wilmington (Del.) - Pontiac Solstice, Saturn Sky, Opel GT
Canada:
Oshawa Consolidated - Chevy Impala
Oshawa Truck - Chevy Silverado, GMC Sierra Light Duty Extended and Crew Cab
CAMI - Chevy Equinox, Pontiac Torrent
Mexico:
Silao - Chevy Silverado, GMC Sierra Light Duty Crew Cab, Chevy Avalanche, Cadillac Escalade EXT
Ramos 2 - Chevy HHR, Saturn VUE, Chevy Captiva
San Luis Potosi - Chevy Aveo, Pontiac G3
As a result of these assembly plant actions, GM will also continue to assess its powertrain and stamping capacity needs and make adjustments as appropriate.
General Motors Corp. (NYSE: GM), the world's largest automaker, has been the annual global industry sales leader for 77 years. Founded in 1908, GM today employs about 252,000 people around the world. With global headquarters in Detroit, GM manufactures its cars and trucks in 34 countries. In 2007, nearly 9.37 million GM cars and trucks were sold globally under the following brands: Buick, Cadillac, Chevrolet, GMC, GM Daewoo, Holden, HUMMER, Opel, Pontiac, Saab, Saturn, Vauxhall and Wuling. GM's OnStar subsidiary is the industry leader in vehicle safety, security and information services. More information on GM can be found at
General Motors | Corporate Website | GM
.
# # #
CONTACT(S):
Chris Lee
Manufacturing & Labor Relations Communications
586-986-9520
586-899-3021 - cell
Chris.T.Lee@gm.com
Tony Sapienza
Manufacturing & Labor Relations Communications
586-986-9540
313-410-3302 - cell
Anthony.Sapienza@gm.com
Susan Waun
Manufacturing & Labor Relations Communications
586-986-9818
313-909-0693 - cell
Susan.Waun@gm.com