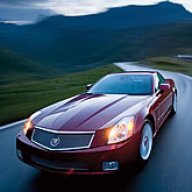 Seasoned Member
Staff member
Site Administrator
Joined

Oct 7, 2006
Messages

5,449
Location
My XLR/V(s)

Not yet!
GM money woes kill hopes of production Converj
Posted Today, 2:44 AM by James Martinez
MotorAuthority.com
One of the most exciting cars from last week's Detroit Auto Show was the Cadillac Converj concept car, which General Motors used to showcase its plug-in hybrid technology in a luxury platform. Despite the concept featuring one of the most striking designs we've seen in a while, GM vice chairman Bob Lutz said it was designed so that any eventual production version would look "exactly like" the show car.
The concept's exterior isn't the only design aspect that is near the production stage. The new Voltec plug-in hybrid powertrain is the same unit from the upcoming Chevrolet Volt, which GM plans to launch in late 2010. Furthermore, GM will soon construct a factory in Michigan together with LG Chem to build the advanced lithium-ion batteries required to power the hybrid system.
Unfortunately, tight finances and more important vehicles in the pipeline have killed any chance of the Converj entering production anytime soon, despite all the basic ingredients being there.
"Ready to go? Well, first we have to prove to ourselves that we have the money," Lutz said during an interview with Automotive News. "We haven't done any of that work yet." Lutz went on to reveal that, if produced, the Converj would be priced similarly to other luxury coupes such as the Lexus SC 430 and Cadillac XLR.