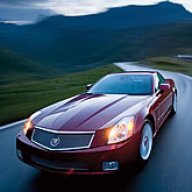 Seasoned Member
Staff member
Site Administrator
Joined

Oct 7, 2006
Messages

5,391
Location
My XLR/V(s)

Not yet!
2008-12-19
GM Statement on Administration Providing Bridge Loan to Domestic Auto Industry
We appreciate the President extending a financial bridge at this most critical time for the U.S. auto industry and our nation's economy. This action helps to preserve many jobs, and supports the continued operation of GM and the many suppliers, dealers and small businesses across the country that depend on us.
This will allow us to accelerate the completion of our aggressive restructuring plan for long-term, sustainable success. It will lead to a leaner, stronger General Motors, a GM that is:
*dedicated to great products, exciting design, and world-class quality
*fully committed to leading in energy-saving vehicles and technologies,
*responsive to the needs of our customers, our stakeholders and the communities we live in and serve.
We know we have much work in front of us to accomplish our plan. It is our intention to continue to be transparent as we execute our plan, and we will provide regular updates on our progress. We again thank the Administration for this important support of our industry at this challenging time, and we look forward to proving what American ingenuity can achieve.
CONTACT(S):
Greg Martin
Director, Policy and Washington Communications
General Motors Corp.
25 Massachusetts Ave., NW
Suite 400
Washington, DC 20001
(t) 202-775-5008
(c) 202-744-6285
Tom Wilkinson
Director, GM News Relations
313-667-0366(office)
313-378-6233 (cell)