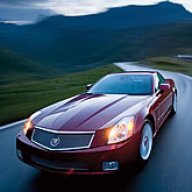 Seasoned Member
Staff member
Site Administrator
Joined

Oct 7, 2006
Messages

5,449
Location
My XLR/V(s)

Not yet!
Highlights of GM's plan
April 27, 2009 - 2:00 pm ET

DETROIT (Reuters)
-- General Motors announced a new restructuring plan Monday that includes aggressive debt reductions, dealership closures and job cuts.
GM faces a June 1 deadline to show the U.S. government that it deserves almost $15 billion in U.S. aid on top the $15.4 billion already received. Without further federal help, GM risks a bankruptcy filing.
As a result of the actions, GM's structural costs in North America are projected to decline 25 percent to $23.3 billion in 2010, from $30.8 billion in 2008.
Here are details of the automaker's accelerated steps:
Brands, dealerships
• Pontiac will be phased out by the end of 2010.
• GM will offer 34 U.S. nameplates in 2010, compared with 48 in 2008.
• Saab, Saturn and Hummer will be shed by the end of 2009 at the latest.
• The U.S. dealership count will fall from 6,246 in 2008 to 3,605 by the end of 2010 -- a cut of 42 percent. This represents a further reduction of 500 dealers and comes four years sooner than GM's restructuring plan submitted in February.

Manufacturing, employment
• The number of U.S. assembly, powertrain and stamping plants will be cut to 34 by the end of 2010, from 47 in 2008. This will be further reduced to 31 by the end of 2012.
• U.S. hourly positions will be reduced to 40,000 in 2010, from 61,000 in 2008. It will level off at about 38,000 starting in 2011.
• GM will cut U.S. hourly labor costs from $7.6 billion in 2008 to $5 billion in 2010 and $4.1 billion in 2014.
Equity
• GM common stock issued to the U.S Treasury and the UAW shall not exceed 89 percent of the company.