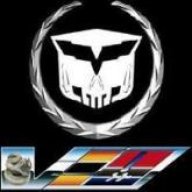 Joined

Jun 3, 2010
Messages

1,079
Location
My XLR/V(s)

2006 Black Raven XLR-V; 1996 Eldorado ESC-V
I know I'm suffering from cabin fever, but am looking forward to several events this year.
So, I figured I'd pass along info on an event that I've attended for a few years.
The Indy V Meet 6 Apr 2013 at
Ricks Boatyard Cafe
on Indy's West side is a very casual get together. Rick's Boatyard Cafe is a nice place to accommodate us with a large lot around back. Attendee are mostly CTS-V owners, but last year we also had two STS-Vs, and I. I told them about the MMs and they said all XLRs are welcome to join. Attendees are mostly couples, ages from 20something to 70s. The guys tend to gather out in the parking lot and the gals converse in the bar until the meal is served. The meal reservation is for 2:00PM, so most folks start showing up around 1PM.
After eating, we wallow out to our cars for group pictures and more car talk. Eventually some take a cruise down to a place called "
The Suds Drivein
" on the south side that's supposed to be more hot rods and classic muscle cars, but they loved us cruising in as a group.
4050 Dandy Trail, Indianapolis IN.
Rick's Cafe Boatyard
2PM Saturday APRIL 6, 2013