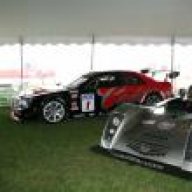 Joined

Oct 16, 2008
Messages

3,797
Location
From Andy Pilgrim:
[FONT=Arial, Helvetica, sans-serif]"Life on the Road"[/FONT]​
[FONT=Arial, Helvetica, sans-serif]
The 10 days leading up to Round 5 of the Speed World Challenge race on July 4th seemed like one long endurance race to be quite honest. Actually, the race weekend at the Glen was exciting enough all by itself, truth be known, but I'll get to that in a bit.
I talk to thousands of people all over the country during the year, either at races, business events, pr events, colleges or high schools.
One of the most frequent chats I have with people involves their perception of the on the road life of a professional race driver. People's perceptions run along the lines of very cool or interesting, but really, it's a bit of a mystery to them. I mean, we travel all over, arrive, meet people, drive fast cars or give a speech and fly off to the next mystery stop. My last 11-day trip was a good one so I'll take away some of the mystery right here.
The trip started on Thursday, June 25. I drove my car down to Miami airport from my home in Boca Raton, which took an hour or so due to traffic. I caught a plane out of Miami to Chicago and then on to Minneapolis.
We were an hour or more late out of Miami as someone had managed to block one of the toilets on the plane. My imagination still hasn't rid itself of the image of some poor, unfortunate person actually sitting there stuck on the toilet, although I'm not sure that was the actual situation. Anyway, short of seeing some poor soul covered in blue rinse being carried off the plane we finally left. I luckily had a later flight I could take to Minneapolis and got to my hotel in time for dinner.
The next two days in Minneapolis-St Paul were spent working with the people from Ford Motor Company. The Ford Fund is a Foundation that supports Driving Skills for Life. This program travels to about 10 cities a year and provides training for new drivers and their parents. It's a great program and a friend of mine Jim Graham from Ford runs it.
Jim Graham and I go back to 1997 when Jason Priestley and I ran together for a year in the Motorola Cup series in a Mustang GT. Jason was sponsored by Ford back then. Jim invited me out to see the Driving Skills for Life program as he knows I am very involved with teen driver education.
Almost 700 people went through the program in three days which included classroom and a lot of hands on driving. I spent two days talking to students and parents and had a great time. Luckily the weather cooperated for the two days I was there and we had very little rain which was good as we were standing in a big parking lot all day.
I flew from Minneapolis to Washington, DC on Sunday, as on the Monday, I had a track day to do at Summit Point Raceway in West Virginia. I very rarely do track day events. This event and the one the following day were linked directly back to my days with GM Racing - that ended last year.
This was not just any track day; Lindsay Cadillac is a dealership near DC in Alexandria, VA which organizes track days for their customers and other enthusiasts. Luke Butler, who leads this program, is a really good guy.
Well, this year Luke outdid himself and had Pratt and Miller bring the two-seat Cadillac CTS World Challenge race car. Pratt & Miller, who, as you recall, built the Cadillac race cars I drove between 2004 and the end of last season, hired me to drive it.
My deal was that I was on call all day to give rides to anyone who wanted a ride. I was at the track before 7 am to help with the driver instruction school as we had a lot of new track day drivers there, then we started giving rides at 10 am.
It was great to see almost 50 CTS-V's out for this event, especially in this economy.
I was in the two-seat race car for over six hours - and it was over 90 degrees on that Monday. I think we made some more friends and hopefully helped Lindsay sell more cars. I can tell you six hours in that race car with no cooling, and not even an air duct, gave me a heck of a work out.
I got out of Summit Point about 5:30 pm and started the 280 mile drive down to Virginia In't Raceway in Danville, VA, right on the border with North Carolina – and by that, I mean right on the border. In fact, you cross the state line twice just driving into the property.
I got into my hotel around 11 pm after stopping for dinner in the middle of nowhere along the way. The diner was excellent; I just couldn't believe this place was attached to gas station and there was not even a village around.
The lady and her sons running it had spinach salads, fresh fish and great soups. I loved it, and I needed it after that day.
Not that you really need to know this, but I'll tell you anyway in case you're dropping off: I drank six bottles of water during the 280-mile drive from Summit Point to VIR and never needed to use the bathroom. This is not supposed to be impressive in the sense that I have a bladder the size of a fuel truck. It's to let people know how fit you have to be in the race cars when doing endurance racing. I did drink several bottles of water during the day but still needed that much rehydration. And some people still think race driving is not a sport, yeah right!!
The next morning I was up again at 5:30am to be at VIR by 7 am. This event was held by the National Corvette Museum and my job was not only to chat with the Corvette faithful who were there but to teach a class for the expert drivers and to give rides all day in people's cars. (I should point out, too, that I have to drive the cars. I am not allowed to ride in the passenger seat, it's just too much risk for my race teams to sign-off.)
Roc Linkov ran the event for the Museum; he had a schedule for me that had me driving people's cars every 25 minutes throughout the day.
This event was packed with cars, from loads of stock and massively tuned Corvettes to all kinds of other manufacturers. The event was run on the VIR full track, which is a superb race track.
Both events had a couple of accidents but all-in-all, everybody did great job.
I ended up leaving VIR at 6 pm and then drove about an hour and a half south to Raleigh, NC. Perfect, just in time for dinner.
I was up the next morning again at 5am to catch a plane from Raleigh to Chicago and then onto Syracuse NY. I got into Syracuse around lunch time and started my drive to the hotel near Watkins Glen.
Now it's usually not a big deal, driving the 100 miles to the Glen, but on this Wednesday it was really bad. I think New York got a lot of stimulus money I really do. It seemed like every bridge was being worked on and this road construction had the whole route in a huge mess. The hour and half drive took over 4 hours! Yuk!! But, guess what, I arrived just in time for dinner.
I crammed several hours of work into Wednesday evening and could at least sleep-in a little on Thursday - until 8 am - before heading out to track at Watkins Glen.
We had a very good practice session with my car but unfortunately, Randy Pobst, my teammate, broke his car's gearbox, and that took care of the only spare we had on the trailer.
We've had five weeks since the last race and the K-Pax guys were totally ready; this gearbox problem was not anything that should have happened. We have been fighting gearbox reliability this year. Now it looks like quality of internal parts could be the issue. We'll have to stay tuned on that.
Because the Volvo S60 AWD is a 4-wheel drive vehicle, the gearbox change requires an engine-out performance, and it takes a massive eight hours.
We had a good practice, then we were into qualifying. Unfortunately, as soon as I went out for qualifying, I realized my gear box had a shifting problem. There was nothing I could do, I put in a lap as best I could and ended up qualifying 7th with Randy in 6th.
The big question mark now was if I could actually start the race, because we now had two broken gearboxes with which to create one race box.
The guys removed the old box and I watched as Will Moody and Dax Raub carefully and methodically disassembled and inspected which parts were good and which parts were trash.
I felt like an expectant father watching a doctor working on my child and after I ran out of alcohol and cigarettes I couldn't stand it anymore. I'm kidding, I don't smoke or drink but it sounded more intense than biting my finger nails.
The next morning we had a meeting and decided to abort the normal violent standing start as we just didn't know how strong the box would be. I alerted my fellow competitors behind me on the grid what was going on as a stalled or slow car in front of you is very difficult to miss during our World Challenge standing starts.
The race was a very good one, intense and demanding. My car did run and although I ran 11th initially after a careful start I soon worked my way up to 8th and onto the back of Sebring winner Tony Rivera.
It was another great World Challenge race. Tony had some issues with his handling coming off corners and I had issues going in and through the middle of corners. I tried to get in some kind of position to make a move for 20 laps. Finally, with less than two laps to go and with an all green race, Tony had a big slide coming onto the front straight and I got in a position to pass him going into turn one.
Now on the last lap, I had caught up to the back of Mosport winner Jason Daskalos. Jason was having handling problems too it looked like and I was very close with only five corners left in the race. He had a big slide coming out of the toe of the boot - turn 13 - and I was able to get alongside him going up the hill to the mid speed 90-degree, right hand turn 14, but he had given me the outside of the track.
We went into 14 side-by-side and came through there neck-and-neck for the next left- hander … and now I had the inside for turn 15, another mid speed but slippery left-hander.
Jason slid a little wide. During all this we had both passed a slowing Brandon Davis, who now had a broken throttle cable. It was all a bit frantic.
I ended going from 8th to 5th in less than two laps. It felt like a race win to be honest. I was very happy and have to give a huge thank-you to Will and Dax for giving a me a gearbox that lived with no problems.
Dino Crescentini won the race in his GMG Porsche with a closing Eric Curran bumping him across the line in second with his Whelen Covette. New dad James Sofronas was third in his GMG Porsche; congratulations to him on both fronts, he told me his wife and new daughter are doing well.
It was a great race weekend. The K-Pax/3R crew over-produced again as far as Randy and I are concerned. Reliability is our biggest problem right now, but we'll get there.
In three weeks, we're going to a new track, the Autobahn Country Club, in Joliet, IL. I'm looking forward to that a lot.
I drove back to Syracuse after the race and this time it only took two hours, which was nice. Oh yes, guess what -- I was in perfect time for dinner.
Sunday, July 5th, up at 5:30am, two flights back to Miami and home into my house around 4 pm.
So, there you go, 10 days in the life of this race car driver, I hope you enjoyed the insight, take care all.
[/FONT]
http://www.andypilgrim.com/editor/templates/template.asp?articleid=39&zoneid=7