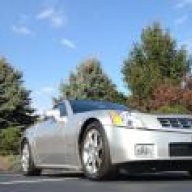 Joined

Jun 17, 2011
Messages

2,760
Location
My XLR/V(s)

2005 Light Platinium Silver XLR
The WindRestrictor Product Review
MY PURCHASE EXPERINCE
Well my 2005 Cadillac XLR was an excellent catch, but I seemed to be unhappy with the topless highway driving with the wind turbulence that would become annoying. So I did as I would with any product I purchase, I got online onto the internet and checked reviews for my best option to find me a wind deflector. I looked at all avenues of the products available from construction design, looks, mounting, lighting options and of course pricing, finding that cheapest don't mean it's the best option. Of course since this is a high end Cadillac I wouldn't want something cheesy on my new awesome ride. As I reviewed the wind deflectors the Windrestrictor had some very good reviews and top of line options that I was looking for, such as strong metal mounting brackets, extremely nice illumination options with multicolor and remote control as a plus, laser etched logo/wording and very easy installation instructions. They also offered your own custom etching at an extra charge! Although WindRestictor was a little bit pricier, my theory is you get what you pay for. The cool thing was while online purchasing they have a Chat now button for questions and answers that I had used and after getting my questions answered they offered me a coupon code to use for 10% OFF DISCOUNT on the whole order!
Anyone can use this code which was [GLOWIN4U] Just add it to the Coupon Code area at checkout.
THE PACKAGING
As I was very anxious to get my new WindRestrictor, I didn't use the speedy delivery at an extra cost, but it still arrived in 7 business days to my door. When opening the package I was surprised to see how well it was wrapped in layers of foam wrap, sealed in bubble wrapped, clear plastic layer protector across the WindRestrictor to protect it during shipping and installation, the rest of the parts was all neatly packaged to protect my new WindRestictor from damage. The cardboard box had an official General Motors emblem and license GM sticker along wind the sticker showing it was from WindRestictor. The instructions where neatly printed with photos and pictures for easy installation. The wiring installation was worry free as there is no splicing or solder of wires involved with the quick wire connectors. They had included white gloves which was a very cool idea to help install with a fingerprint free install.
They simply had thought of everything for the do it yourself people in mind so you do a professional install, which meant no need to pay someone to it for you. Saving you more money to buy more unique items to customize your awesome ride!
123 EASY INSTALLATIONS
Talk about easy install they thought of everything to make it a snap. They said only about an hour and half to do an install and it was right on target. Wiring to the wires in the truck was fairly easy as well explained perfectly to the exact colored wires in the photos in the simple instruction. I like the nice touch that these illuminated WindRestrictors also serves as 3rd brake light. The control box unit has a built in dimmer for less intense adjustment for your liking. All the wiring can be tucked away in areas for professional looking install if you follow their direction! Yes it's that simple and easy!
NOW FOR THE ROAD TEST
After double checking everything was tight and all wiring was in place I was ready for a road test. The WindRestrictor was purchase for more than just wind blocking, you see my wife says no top down driving when she has her hair all done up to go out to dinner or a special event, well no more messed up hair dos, next best thing is the awesome look with night drives, the Cadillac Art Logo lights up the night with my favorite color, with just a click of the handheld remote control and lets me change the lighting color and other lighting options at car shows where I get many complements all the time. The road test went well as expected the WindRestrictor was well worth the money. With the WindRestrictor we have cruised with the top down on a cool sunny day and side windows up and enjoyed and nice warm wind turbulence free ride. Although it's doesn't stop the wind completely it reduces it enough to be a comfortable drive! You can always turn on your interior car heating too if need to help take off a chill and with the WindRestrictor it allows the heat stay inside over you!
MY HONEST WINDRESTRICTOR REVIEW *****
Yes I give the company and the product 5 stars for everything! The experience I have encountered with them has led me to purchase the XLR Door Sills also and I will be purchasing other accessories in the near future for my Cadillac XLR. Please keep in mind these WindRestrictor are also now available some Coupes and their other accessories can be fitted to many brands of other vehicles. So check them out! Chat with them online if you have question about the vehicle you own if you are interested in customizing your awesome ride! Change the way you drive with your convertible top down or now even your Coupe with a cool Glow Plate! Purchase and Customize your own Awesome WindRestrictor Product today.
Want to see all the other accessories offered by the WindRestrictor company visit them at this website
Copy Paste Link:
Home page
And don't forget to receive your 10% OFF DISCOUNT add this Coupon Code [GLOWIN4U]
Illuminated WindRestrictors, Glow Plates, Wheel Rings, Emblem Badges, Puddle Ghost Lights & Edge Lit Art - See at their website
Home page