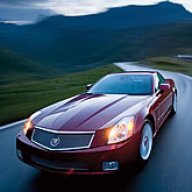 Seasoned Member
Staff member
Site Administrator
Joined

Oct 7, 2006
Messages

5,374
Location
My XLR/V(s)

Not yet!
Road Test: 2015 Cadillac XTS V-Sport AWD Premium
Published January 22, 2015 - 2:47pm
The Chronicle Herald
With a press of the unlock button on the key fob from a good distance, at night, the Cadillac XTS already started to entertain me.
It lit up like my still Christmas-light-swathed house did over the holidays when the big, Crystal Red Tintcoat, full-sized luxury sport sedan carted us around for two weeks.
The XTS' four LED-light-filled door handles and gradually-brightening LED light pipes with HID headlights (that did a slick three-quarter turn) were enough to transform night into day and cause many a parking lot passerby to stop, stare and sometimes comment.
Like the one guy who stepped out of his pick-up truck at Canadian Tire and said, "Cool lighting! How does it drive?" and a few other queries before he left me at the store's turn-stile.
It moved and handled pretty darn good for a 1,916-kg all-wheel-drive behemoth of a ride as it exhibited exceptional off-the-line performance (with hardly any turbo lag), while heaps of mid-range torque was at the ready in an instant for highway-speed pass manoeuvres.
Those who drop $77-plus grand on our version of the XTS most likely won't be doing so to race through off ramps or to do weekend laps at the track; they'll be driving to the company that they own or chauffeuring somebody important from the airport.
Full Story:
Road Test: 2015 Cadillac XTS V-Sport AWD Premium | The Chronicle Herald