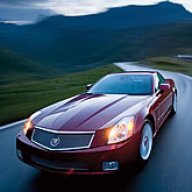 Seasoned Member
Staff member
Site Administrator
Joined

Oct 7, 2006
Messages

5,449
Location
My XLR/V(s)

Not yet!
U.S. provides $5 billion in aid for troubled parts suppliers
David Barkholz
and Robert Sherefkin
Automotive News
March 19, 2009 - 10:59 am ET
UPDATED: 3/19/09 2:20 p.m. ET
The federal government has approved $5 billion in assistance to automotive parts suppliers. That is well below the $18.5 million that the troubled industry had sought, but it's the first cash that the government has extended to suppliers.
Suppliers and analysts applauded the news.
The U.S. Treasury Department said the aid comes in the form of guarantees for receivables, or payments owed suppliers for parts already delivered.
The bailout is a huge relief to suppliers struggling with a falloff of revenue caused by massive North American vehicle production cuts since November.
"The Supplier Support Program will help stabilize a critical component of the American auto industry during the difficult period of restructuring that lies ahead," said Treasury Secretary Timothy Geithner in a statement.
Wilbur Ross, chairman of International Automotive Components Group, called the announced bailout "the best day the auto industry has had in a long time."
Ross told Automotive News that "GM and Chrysler LLC are committed to supporting the program, but it's not clear what Ford will do." GM and Chrysler have received $17.4 billion in aid so far and are seeking almost $22 billion more to avoid collapse.
The $5 billion would cover about the amount the Detroit 3 currently owe their suppliers for parts, said a person familiar with the plan. That $5 billion represents about 45 days of parts, which is the normal payment cycle for suppliers, the person said.
Suppliers can access the $5 billion by selling their receivables to the government for a small fee as part of a practice known as factoring, the Treasury said. The guarantees also give comfort to the private lenders of suppliers, which often use receivables as collateral for loans.
Since December
Suppliers, through their associations, have been pleading for aid since December. A total of $18.5 billion has been requested, including $10.5 billion for receivable guarantees and credit insurance.
Parts suppliers are trying to survive the worst industry downturn in decades. North American vehicle production fell 55 percent this year through March 7, and U.S. auto sales were down 39.4 percent through February.
GM, in a statement, applauded the Treasury's decision and said, "This action can help reduce the risk of vehicle product disruptions."
Asked how much of this money GM expects to get, spokesman Dan Flores said: "The final allocation of the $5 billion between the automakers has not been finalized. But we anticipate that it will be allocated fairly based on size and need."
But Aaron Bragman, an analyst at IHS Global Insight, said, "My only concern would be: Is this enough money?"
"Five billion is significantly less" than the amount requested, he said. "It's not as much as I thought we would see. It may be enough to keep things going for a little while, but this is not a sweeping, lasting fix."
'
Lifeline'
Doug Harvey, a partner in consulting company A.T. Kearny's automotive practice in Detroit, said, "It is probably a lifeline where the automakers can keep afloat the critical suppliers until a larger decision can be made as to how we are going to proceed with" bailout requests from GM and Chrysler LLC.
"I think this is a good sign if you are looking for an indication that the government is going to support this," he said.
U.S. Congressman John Dingell (D-Mich.), said in a statement, "This aid comes at a critical time for this vital industry, and I am pleased the program will be able to keep the doors open and lines operating at many U.S. auto suppliers."
A failure of large suppliers would be very expensive to all automakers manufacturing in North America because of the interlocking chain of U.S. parts suppliers.
Shares of GM jumped 9.5 percent to $2.89, while Ford shares were up 1 cent to $2.46.
Major suppliers, including Lear Corp. and American Axle & Manufacturing Holdings Inc., received warnings this month from auditors over their ability to continue as a "going concern," while Visteon Corp. has warned it is in danger of breaching its debt covenants.
Lear said on Tuesday it may be required to file for bankruptcy protection despite winning an agreement with lenders that gives it until May 15 to restructure its debt-heavy balance sheet.

Chrissie Thompson and Reuters contributed to this report