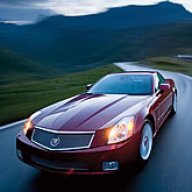 Seasoned Member
Staff member
Site Administrator
Joined

Oct 7, 2006
Messages

5,451
Location
My XLR/V(s)

Not yet!
U.S. will invest another $30 billion into GM
Bankruptcy filing will be 'judgment call,' official says

Neil Roland
Automotive News
May 28, 2009 - 3:14 pm ET
WASHINGTON -- The Obama administration plans to inject $30 billion into General Motors on top of the $19.4 billion it has already lent as part of a sweetened offer to bondholders, senior administration officials said today.
At least 35 percent of the bondholders have indicated they will approve the new GM restructuring plan, which calls for them to get a 10 percent equity stake in the new company as well as warrants to buy an additional 15 percent share.
The administration is working through a bondholders committee to try to secure the agreement of the remaining lenders by 5 p.m. ET on Saturday, the officials said on a conference call with reporters.
But even a majority bondholder agreement may not stave off a GM bankruptcy filing next week, an official said.
"It will be a judgment call," he said.
GM plans to file for bankruptcy protection on June 1, according to a source familiar with the matter.
A GM bankruptcy may take between 60 and 90 days, the officials said -- somewhat longer than the 28 days it has taken Chrysler thus far as it nears the end of its bankruptcy process in a New York court.
Bankruptcy stigma 'overstated'
"The Chrysler experience should be cause for some optimism that GM's experience will be similarly efficient," Edmunds.com analysts said in a statement. "The stigma of being in bankruptcy seems to have been vastly overstated."
The analysts cited improved Chrysler sales figures for the month of May.
The $30 billion federal loan would be converted to equity, with $8 billion of the total U.S. funds to be repaid by GM, the officials said.
Most of the rest would be converted to equity, with the government initially holding a 72.5 percent stake in the new company. That portion could be reduced to 55 percent if a UAW trust fund and bondholders exercise warrants.
One group of bondholders made up mostly of individual investors today rejected the administration's new offer.
"The U.S. government appears to overtly favor the UAW members over America's seniors and retirees," the group, Main Street Bondholders, said in a statement.
GM bondholders hold $27 billion in debt, with money managers holding about $21 billion of that and thousands of individuals holding the remaining $6 billion.
The UAW trust fund would have a 17.5 percent share in the new company, with the right to buy an additional 2.5 percent stake.
That potential 20 percent share would be less than the potential 25 percent stake that bondholders could hold under the GM plan.
"It represents the best alternative for bondholders in the current difficult and dire situation," an ad hoc committee of GM bondholders that represents about 20 percent of lenders' $27 billion GM debt said today.
Bondholders approve deal
The ad hoc committee approved the sweetened GM offer today.
The new GM would likely be a private company for about 6 to 18 months before it makes an offering of public shares and reverts to being a publicly traded company, the officials said.
"Is it financially equipped to operate in the current environment for a long period of time and operate well if there's any modest improvement in the car-sale situation?" a senior administration official said. "Yes, it is."
The Canadian government also may contribute about $9 billion in loans that can be converted to equity, the officials said.
Current stockholders would probably get nothing in a bankruptcy proceeding, the officials said.