The window sticker below is a facsimile of what the real window sticker might look like. We are not responsible for the accuracy of the numbers and details below.
History of: 2008 Cadillac XLR, Serial #1437:
PVI - Primary Vehicle Identifier: Also known as the "Job Number" - the number assigned to the vehicle while being built and prior to the VIN.
Current Owner: Wagner, James
XLR Net Forum Member: WAG
Previous Owners: 1
Current Mileage: 15,008 miles
Current Location: Murrells Inlet, SC, USA
| | |
| --- | --- |
| Vehicle Identification Number: Hidden | Delivering Dealer / Invoicing Agent: Cadillac of Las Vegas-West, 5185 W. Sahara Ave Las Vegas, NV 89146 |
| Build Date: 05-06-2008 | |
| Order Number: | PVI Number: |
| Charge to Dealer Number: | Ship to Dealer Number: |
Modifications:
04-06-2013: Wind Deflector
Notes / Comments:
04-06-2013: Privately Owned by James Wagner of Murrells Inlet, SC with 15,008 miles on the odometer. Car was purchased from Nalley Audi Roswell of Roswell, GA with 11,783 miles on the odometer, and one previou owner listed.
The window sticker below is a reproduction made from the original in Bowling Green. Note that the reproduction below does not indicate that it is a Platinum Edition XLR, however, the car is in fact, a Platinum Edition.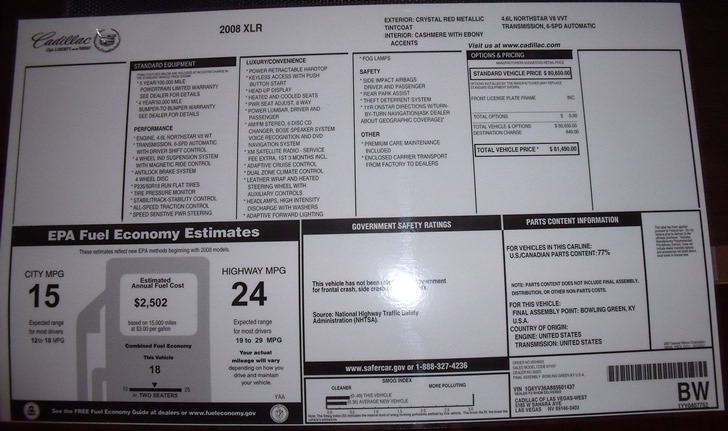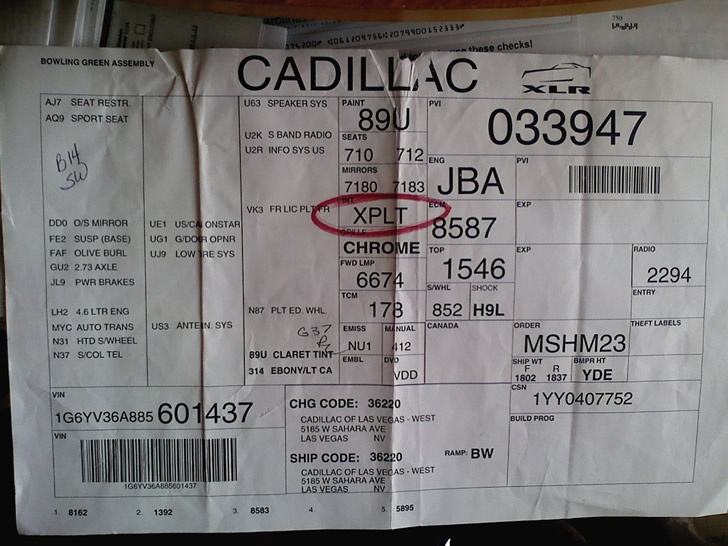 The XLR Net does not have the resources to validate or confirm information provided to and for this Registry. Information provided in this Registry is as accurate as the information provided to us. It is not the intent of the XLR Net to document fraudulent data, nor do we have the expertise to question beyond reason, information provided. The XLR Net does due diligence to accurately document the Cadillac XLRs listed in this Registry, but does not, nor will the XLR Net advise, inspect or arbitrate information provided.