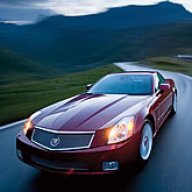 Seasoned Member
Staff member
Site Administrator
Joined

Oct 7, 2006
Messages

5,449
Location
My XLR/V(s)

Not yet!
2009 CTS-V Performance Reaches The Stratosphere
​
Certified at 556 horsepower, acceleration times are top among V-8 sedans
​
MILFORD, Mich.
- As final testing of the limited-edition 2009 CTS-V nears completion, the results suggest that Cadillac's upcoming sports sedan is entering the stratosphere of the world's highest-performing cars. Cadillac announces the following performance specifications for all-new 2009 CTS-V:
* CTS-V, with its supercharged 6.2-liter LSA engine, has achieved SAE-certified peak output of 556 horsepower (415 kW) at 6100 rpm and 551 lb.-ft. (747 Nm) of torque at 3800 rpm.
* CTS-V accelerates from 0-60 mph in 3.9 seconds. CTS-V covers the quarter-mile in 12 seconds at 118 mph. These acceleration times are believed to be the fastest for any V-8-powered sedan currently in production.
More than just power, CTS-V also includes a comprehensive suite of technical and design enhancements, including Magnetic Ride Control and a new automatic transmission with paddle-shift control. Cadillac pioneered Magnetic Ride Control, the world's fastest-acting suspension, in 2004. The new CTS-V employs a new version of this technology, enabling it to achieve a remarkably wide bandwidth of capability that ranges from extreme high-performance agility to the smooth road manners of a prestigious luxury sedan.
CTS-V also manages power via an extremely robust driveline. The car's limited-slip differential is made of cast iron for extreme strength. Its limited-slip tuning enables excellent high-speed stability along with comfortable low-speed maneuverability. The prop shaft is heavy-duty and wheel hub bearings are stiffened and bolstered to manage the car's remarkable energy. Axle half-shafts are asymmetrical, a design that ensures smooth performance.
"CTS-V represents the full extension of our design, technology and performance capabilities," said Jim Taylor, Cadillac general manager. "The V-Series takes the award-winning CTS sport sedan and elevates it to a position within the club of the world's most exclusive and capable cars."
In testing May 8 at Germany's famed Nürburgring track, the new 2009 CTS-V completed a lap of the legendary Nordschleife in 7:59.32. This blistering time appears to be the fastest ever publicly documented for a production sedan on factory-spec street tires.
One of the realistic objectives of the Cadillac team is to make the CTS-V the world's fastest production sedan, as a part of the overall goal to make the V-Series Cadillac's ultimate expression of performance and technology. A video of the car's breakthrough Nürburgring performance is online in many locations, including Cadillac's home on the Internet (Cadillac.com/09ctsv), and at the blog documenting Cadillac performance development (
http://Cadillac.gmblogs.com
).
# # #
CONTACT(S):
David Caldwell
Cadillac Communications
Phone: 313-665-7252
E-mail:
david.caldwell@gm.com
Vince Muniga
Product Development Communications
Phone: 586-575-1928
E-mail:
vince.muniga@gm.com