Joined

Nov 20, 2017
Messages

5
Location
My XLR/V(s)

2004 Satin Nickel XLR
Hey there – good evening.
My name is Bill – I'm a quiet member of XLR-net (I go by CaptainOverkill here on the site) and much to my chagrin I've come to the difficult decision to part with my XLR after thinking about owning one for many years, then looking all over the country for the "right" one for many months and ultimately being fortunate enough to actually find it. I realize saying this here is uniquely dangerous (flame suit on lol), but I have what may be the cleanest '04 XLR in existence. I bought it from it's original owner (a very nice lady who is now 73) about five months ago - it was her "sunny Sunday car" and I would not be exaggerating if I said the car looks quite literally brand new. It has 32k original miles, it's Satin Nickel /Ebony (Black) leather (1 of only 163 made in this color combination in 04), and it's in truly astonishing condition. No need to search everywhere for a pristine, low mile example at the right price - as it turns out I did it for you.

To save the difficulty of recreating the description here, please allow me to direct you to my listing on ebay - there are 24 photos and a pretty (okay very) detailed description – if you'd like to see it, here's a link:
https://www.ebay.com/itm/112877741668
I have it listed for $23,888.88 - considering the mileage, the rarity and desirability of the color combination, and it's rather remarkable condition, I got what I thought was a very fair deal on the car and I'm passing it on.
The car was pampered and fanatically maintained, and I have everything including the original purchase contract, window sticker, all owner documentation, and service records. It is 100% original, and it is darned near a 100 point car.
Typing this is making me sad so I think I'll stop here.
Please f
eel free to give me a call if you have any questions. Have a wonderful evening, and thank you all for all of the help you have been these past couple of years.
Bill
Here's a photo to give you some idea of what it looks like: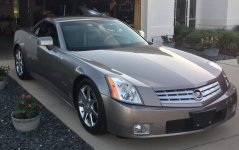 Last edited: