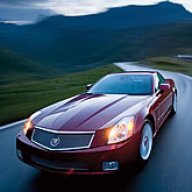 Seasoned Member
Staff member
Site Administrator
Joined

Oct 7, 2006
Messages

5,442
Location
My XLR/V(s)

Not yet!
Bush announces auto rescue
Government to loan GM and Chrysler $13.4 billion from Wall Street bailout fund so that the embattled auto firms don't run out of cash.
By Chris Isidore, CNNMoney.com senior writer
Last Updated: December 19, 2008: 9:30 AM ET
NEW YORK (CNNMoney.com) -- President Bush announced a rescue plan for General Motors and Chrysler LLC Friday morning that will make $13.4 billion in federal loans available almost immediately.
A senior administration official briefing reporters said he expects that GM (GM, Fortune 500) and Chrysler LLC will be signing the loan papers to access the cash later Friday morning.
The money will come from the $700 billion fund set aside to bailout Wall Street firms and banks in October.
With these loans, Treasury will have committed virtually all of the $350 billion of that fund that it can hand out without additional authorization from Congress. Once Congress releases the other $350 billion, the two automakers will be able to borrow an additional $4 billion.
The loans are three-year loans but the money will have to be repaid immediately if the firms do not show themselves to be viable by March 31. It is expected that the companies will have to negotiate new agreements with unions and creditors in order to do so.
During brief remarks at the White House, President Bush said in normal times he would have not been in favor of preventing a bankruptcy of the two companies. But the current state of the economy and credit markets left him no choice but to act.
"Government has a responsibility to safeguard the broader health and stability of our economy," he said. "If we were to allow the free market to take its course now, it would almost certainly lead to disorderly bankruptcy and liquidation for the automakers."
"In the midst of a financial crisis and a recession, allowing the U.S. auto industry to collapse is not a responsible course of action," Bush added.
GM and Chrysler immediately issued statements thanking the administration for taking action.
"We know we have much work in front of us to accomplish our plan," GM said. "We thank the Administration for this important support of our industry at this challenging time, and we look forward to proving what American ingenuity can achieve."
The White House and Treasury Department signaled a week ago that they were willing to use cash from the bank bailout fund to help keep GM and Chrysler afloat after the Senate failed to vote for a $14 billion bailout for the two companies. The bill had already passed the House and had the support of the administration.
GM (GM, Fortune 500) has warned it will fall below the minimum amount of cash it needs to continue to operate without $4 billion in federal loans before the end of the month. Privately held Chrysler said it will need $4 billion or it will also run out of cash early next year.
Ford Motor (F, Fortune 500) has more cash on hand and has said it should be able to avoid tapping into federal dollars unless the weak auto sales continue longer than it expects in 2009.
U.S. auto sales plunged to 26-year lows last month as tight credit, rising job losses and weak consumer confidence have led to a virtual collapse in the auto market.
All of the major automakers, including Asian automakers Toyota Motor (TM) and Honda Motor (HMC), are cutting back production. But the situation is particularly severe at GM and Chrysler.
In the last week, those two automakers announced shutdowns of assembly lines for at least a month, several weeks longer than the typical shutdowns during the December holiday season.