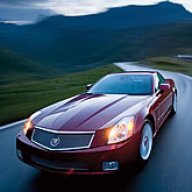 Seasoned Member
Staff member
Site Administrator
Joined

Oct 7, 2006
Messages

5,449
Location
My XLR/V(s)

Not yet!
Cadillac, Corvette and HUMMER European Premières and Improvements in 2008
2007-10-26
-- The 2008 model year promises to be an exciting year for Cadillac, Corvette and HUMMER in Europe. Apart from the various model year refinements and updates, a range of new models will make their début on the European market. In addition to the introduction of the all-new Cadillac BLS Wagon and Cadillac CTS, there are updates across the Cadillac and HUMMER range as well as enhancements for the sixth generation Corvette Coupe and Convertible. It demonstrates the commitment of these iconic and luxury brands to continued growth in the European market.
Cadillac BLS
The all-new Cadillac BLS Wagon marks the entry of the brand in the station wagon-segment, for the first time in its history. Just like the sedan, the BLS Wagon is offered with a choice of three– all turbocharged – gasoline engines, two turbo-diesels and a low-emission bio-ethanol engine, running on either E85 bio-ethanol or traditional gasoline. Both powerful, direct-injected, common rail turbo-diesel engines are fitted with a maintenance-free diesel particulate filter.
The Cadillac BLS sedan model year 2008 also benefits from new features, first seen in the new BLS Wagon. It means that all BLS models now have StabiliTrak electronic stability control as standard.
Cadillac CTS
The 2008 Cadillac CTS luxury sedan combines enhanced engines and advanced technologies with entertaining luxury and new, striking design. The top-level power option is GM's new, 3.6 litre direct-injection V-6 VVT engine, delivering 229 kW (311 hp) and 374 Nm of torque. This complements an alternative 2.8 litre V-6, with a power output of155 kW (211 hp).
For the Cadillac CTS interior, advances in surface development, technology, materials and construction combine to emphasize technical precision with elegant, hand-crafted details. The all-new CTS is designed to further upgrade Cadillac's reputation for providing safe occupant environments in luxury vehicles. Details include for example a Pedestrian Protection system, a full range of air bags and a tire pressure monitoring system.
Cadillac SRX

The 2008 model Cadillac SRX is offered with either the 4.6 litre, 32-valve V-8 Northstar or the 3.6 litre V-6 VVT engine.The five- or six-speed automatic transmissions feature Driver Shift Control,which offers for example clutchless manual shifting, electronically controlled engine braking and downgrade detection with brake assist. Other features include StabiliTrak active suspension and a segment-first option of Magnetic Ride Control.
At 2.96 meters, the Cadillac SRX has one of the longest wheelbases in its class, providing unusually generous rear legroom. The Cadillac SRX is typically configured as a five-seater, with a spacious cargo area. A third row of seats can also be ordered, enabling the transport of up to seven people. Another innovative feature (optional) is "Ultra View," a huge glass sliding roof that is operated electrically.
Cadillac STS
The newest Cadillac STS demonstrates refined performance, sophisticated luxury and purposeful innovation. The STS is offered with the 189 kW (257 hp) 3.6 litre V-6 VVT or the 239 kW (325 hp) Northstar 4.6litre V-8 VVT. Both engines are mated to Cadillac's automatic transmissions with driver shift control, driving the rear wheels. V-8 models feature a six-speed automatic transmission, along with the option of all-wheel drive.
StabiliTrak is fully integrated with the traction control and ABS systems. Magnetic Ride Control comes standard on the V-8. Technical appointments include a keyless access system with a push-button start; optional adaptive cruise control and reconfigurable four-color head-up display.
STS-V

The exciting Cadillac STS-V has been developed to deliver supercharged, rear-drive performance with an unmistakably Cadillac design. At the heart of the STS-V is a hand assembled 4.4 litre version of the Northstar engine, which is fitted with an intercooled, positive-displacement supercharger system. The Northstar V-8 SC engine produces 350 kW (476 hp) at 6,400 rpm and will rev to a maximum of 6,700rpm.
From the outside the 2008 model include features like new side vents, dual polished exhaust ports and a polished stainless steel wire mesh grille with a recessed Cadillac emblem that confirms the STS-V statement.
Cadillac XLR-V

The Cadillac XLR-V combines luxury with power, performance, personal amenities and style and is equipped with the Northstar V-8 supercharged engine, producing 331 kW (450 hp). Combined with a rear-mounted, six-speed automatic transmission, the XLR-V's supercharged engine helps deliver 0-100 km/h (0-62 mph) acceleration in only 4.7seconds. Its specific output of over 100-horsepower-per-litre makes it one of the world's highest specific output production V-8 engines.
Chassis modifications on theXLR-V include larger brakes, recalibrated Magnetic Ride Control, larger front stabilizer bar, stiffer rear lower control arm bushings, larger wheels and tires, a power steering fluid cooler and a higher-capacity fuel pump. Several styling modifications have imparted a more aggressive character to the XLR-V including an aggressively sculpted dome hood,ten-spoke aluminum wheel design with sterling silver finish and four polished stainless steel exhaust tips.
Cadillac Escalade
The second generation of the Cadillac Escalade luxury SUV offers a new level of refinement, style,performance and an instantly recognizable shape. A 6.2 litre, V-8 engine with all-aluminum construction and variable valve timing technology delivers 301 kW(409 hp) and 565 Nm of torque through a six-speed automatic transmission.Handling and active safety are enhanced with the standard Road Sensing Suspension.
Further refinements include all-new sheet metal, giving the vehicle sleeker styling and improved aerodynamics. The 2008 Cadillac Escalade trim levels "Elegance" and "Sport Luxury" include features as a power-assisted rear tailgate, rear parking assist, tri-zone climate control, an audio system with DVD and six-CD changer and 10-speaker Bose 5.1 Discrete Surround Sound System.
Corvette

The2008 edition of the sixth-generation Corvette, available as a coupe or convertible, has an all-new, more powerful V-8 engine. The pre-eminent American sports car also benefits from refinements in driving characteristics. A host of exterior and interior refinements, like the new Custom Leather-Wrapped Interior Package and a new keyless access fob, raise the Corvette's luxury status and enhance the feeling of craftsmanship.
The new, 6.2 litre LS3 small-block V-8 is the standard engine in both the coupe and convertible models. It is rated at 321 kW (436 hp) and 586 Nm of torque. The LS3 with the six-speed paddle-shift automatic is the fastest automatic-equipped Corvette ever.
Corvette Z06
The Corvette Z06 is the fastest, most powerful production car ever offered by General Motors and developed alongside the Corvette C6.R race car. For 2008 the Corvette Z06 combines the attributes that have made the sixth-generation Corvette a sales success across Europe, with raw power, endurance and race-winning know-how.
The Corvette Z06's 7.0litre V-8, LS7 engine delivers 377 kW (512 hp) at 6,300 rpm and 637 Nm of torque at 4,800 rpm. In a car weighing 1,418 kg, that adds up to 0-100 km/h (0-62 mph)acceleration in 3.9 seconds in first gear and a top speed of 320 km/h(approximately 198 mph).
HUMMER H2

The 2008 HUMMER H2 and H2 SUT have a completely redesigned, more refined interior that combines luxury with HUMMER's legendary ruggedness. It features for example a completely redesigned instrument panel, new seats – including a full third-row seat for two passengers– new door trim panels, new controls and a new rear-seat heating/air conditioning system.
The heart of the '08H2 is a new, 6.2 litre V-8 engine. Its rating of 293 kW (393 hp) marks an increase of about 20 percent over the previous engine. A new six-speed Hydra-Matic 6L80 RWD automatic transmission, with manual shift capability,increases towing capacity from 2,948 kg to 3,727 kg. New safety features include roof rail head curtain side air bags with rollover sensing system, new traction control system and tire pressure monitoring system.
HUMMERH3

The HUMMERH3's iconic design continues to make it one of the most easily recognizable vehicles on the road. Model year 2008 comes with a new front bumper design, new distinctive HUMMER front grille insert, new protective front skid plate and a new finish on the standard 7.5 x 16-inch alloy wheels.
The HUMMER H3 is powered by the GM Vortec 3.7 litre, inline five-cylinder engine. It delivers 180 kW (244 hp) at5,600 rpm and 328 Nm of torque at 4,600 rpm. An optional diesel engine will be added to the H3 at a later date. The H3 offers, as the first Hummer ever, the choice of a manual or an automatic transmission.
Source: Cadillac, Corvette & HUMMER Europe