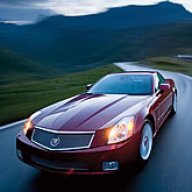 Seasoned Member
Staff member
Site Administrator
Joined

Oct 7, 2006
Messages

5,449
Location
My XLR/V(s)

Not yet!
Cadillac CTS-V is full of sound, fury -- and grace
By DAN NEIL, RUMBLE SEAT
Los Angeles Times
10:14 PM PDT, September 18, 2008
The 556-horsepower sedan is a speedster that provides superb cornering and control in a refined and seductive package.
With 556 horsepower under its tented hood and a cross-wire grille that looks inspired by the maximum-security wing at Chino, the 2009 Cadillac CTS-V seems, well, sort of aggressive. Remember when Cadillacs were soft and pillowy and ambled around town in a kind of Vicodin haze? Remember when you felt like you needed to slip into supportive undergarments to drive one? Doesn't that seem a long time ago?
I cannot gauge whether the investment General Motors has put into this 191-mph monster makes good business sense. I understand that Cadillac is trying, and succeeding, to gain parity with German luxury brands, and their high-performance divisions (BMW M, Mercedes-Benz AMG and Audi S). I further understand that these kinds of cars are halo products, bringing light and glory to the brand without necessarily returning a per-unit profit.
Yes, this is a Cadillac, and yes, the second-generation CTS launched last year was pre-engineered, so to speak, to handle the additional horsepower and ludicrous cornering loads the "V" modifications generate. But this car is night-and-day different from the regular CTS.
For starters, there is a 6.2-liter Corvette-ish engine under the hood, supercharged to within a hairy inch of its life. This engine does not produce a mellow flutter, a deep sonorous rumble, a seismic stirring like that of some distant underground fault. No. This engine screams like it's got its hand on the stove. It howls. It whines like the Season 1 DVD collection of "The View." Good Lord, somebody stop throwing those crows in the wood-chipper.
This is the fierce, brain-baking sound of a super-sports car. What's interesting to me is that, at some point, Cadillac development engineers were weighing the sound quality of the engine -- how raw do we want it, how refined? -- and decided, "Ah, what the hell, let's make it sound psychotic." Good choice.
Said sound is accompanied by a very rude, soccer-mob style shove in the back as all 551 pound-feet of torque catch either the flywheel or the torque converter (the car is equipped with either a six-speed manual or six-speed automatic).
From a dead stop, this car accelerates to 60 mph in about 4 seconds. One-two-three-four. From there it's a rapid and delirious elevator ride to 191 mph (top speed for the automatic is 175 mph).
Let me take a moment to adjust my wedgie before I proceed.
Our test car was equipped with the computer-managed automatic transmission and -- obviously and for purposes of legal liability -- I will say I got nowhere near such speeds. I'd also note that there's a fairly fat band of softness under the torque curve, below the speed where the supercharger kicks in, so when you're just driving around town, the engine is docile, even servile.
But once you push the accelerator about halfway down, the CTS-V flexes its quads, lowers its head and barrels away.
And that's the sense of it, deep muscularity and biomechanical leverage pitted against the mass of the car. This sedan, I should say, is no lightweight. At 4,300 pounds, the 191.1-inch CTS-V is a big and heavy car. Thus the 15-inch Brembo front disc brakes, which are among the largest brakes known to man.
One stat of note is that the CTS-V rips a quarter-mile in under 13 seconds. But that's a rather old-school metric. For connoisseurs, the true measure is the Nurburgring time. The 'Ring is a slightly terrifying, 14-mile asphalt roller coaster of a racetrack in the Eiffel mountains in Germany. The current production-car record is held by the Corvette ZR-1, at 7.26 minutes. The Corvette-derived CTS-V lapped the course in 7.59 minutes, which is apparently a world record for a production sedan.
To put that in perspective, it would take a 1980 Cadillac Eldorado about a day and a half.
GM's boffins of high performance are about now, undoubtedly, sick of spatzel and potatoes, because they've spent so many months in Germany tuning up this car. The results are, however, unquestionable. The CTS-V has the finest, purest, most manageable lateral grip you could want in a big sedan. Armed with low-profile 19-inch Michelin Sport Pilots, the car grips the road like Antaeus.
But when it does start to slide -- you've got to have stability control set on "Sport" and be pushing like crazy -- the feeling in the wheel and seat is so immediate and vivid, there's no drama involved at all. You gather it up, point it right, get on the gas. Poof! This is a very well-sorted car.
The CTS-V uses Cadillac's Magnetic Ride Control suspension system, which adjusts itself for cornering loads and for grip and road conditions. The normal setting is plenty horsey but the Sport setting is terrific. The car clings to corners like a skulking private detective. Big corner-to-corner transitions that would unsettle other cars are nulled out instantly.
Now, it's no surprise that GM could throw enough brains and bucks at this project to make a world-class sports sedan. What is surprising is that the package is so refined and seductive.
Go ahead, park the CTS-V next to a BMW M3. The BMW looks like it should be delivering dairy products. The CTS-V's piano-black interior is lovely, the switchgear is distinctive, the vibe is late-night, supper-club cool.
Remember when Cadillacs were kind of laughable and clumsy? Yeah, me neither.
dan.neil@latimes.com