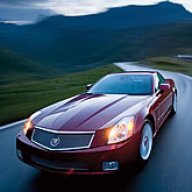 Seasoned Member
Staff member
Site Administrator
Joined

Oct 7, 2006
Messages

5,442
Location
My XLR/V(s)

Not yet!
Cadillac Launches Web Campaign For V-Series
by Karl Greenberg, MediaPost Publications
General Motors is going on with the show for the launch of its performance version of the Cadillac CTS. Cadillac's performance sub-brand, V-Series doesn't get a lot of marketing muscle, as it is a relatively low-volume, high-performance car.
So, the company used a three-day, invitation-only, test-drive event as the basis for a Web campaign that launched last week at
www.Cadillacdrivinglab.com
. The effort, via AOR Boston-based Modernista, is a record of over 660 hot laps by invitees to the Monticello Motor Club racetrack in Monticello, N.Y.
Michael Tabtabai, interactive creative director at Modernista, says the agency captured multiple-angle videos of invitees behind the wheel of the
XLR-V roadster
, CTS-V and the all-wheel-drive CTS, as well as detailed telemetry data that was captured in real time as they drove around the private racetrack.
On the Web site, each test-lap presentation offers a split-screen video (an in-cockpit shot of the driver and a forward shot) of each participant's lap, with real-time telemetry data such as speed, RPM, g-forces, brake and throttle position, and GPS position of the driver on the track, benchmarked against a professional driver's performance on the track.
"Part of the goal was to take a relatively limited production budget and stretch it as far as we could. We captured lots of media, including HD video, photos, and we did lot of work to get benchmarks," says Tabtabai.
"It was kind of planned as a consumer outreach event to get the new CTS-V on the track and invite regular people who are part of GM community of fans," he says. "What we wanted to do with the Web site is stretch the production budget as much as possible." He says the participants noticed the cameras, but had no idea their laps would be Webcast.
"The Web site with drivers' videos and analytics was meant as a surprise 'thank you' to participants. But we wanted to make it into a social media project that spoke directly to consumers and enthusiasts--including those who couldn't make it to event [about a 1,000 were invited]."
Each driver has a unique ID number that creates a direct link to the video, intended to fuel viral dissemination of the site. Tabtabai says the company will launch a rich-media Web campaign in January to drive people to the site. There are also links to the site from Cadillac.com, per Tabtabai.