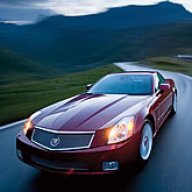 Seasoned Member
Staff member
Site Administrator
Joined

Oct 7, 2006
Messages

5,442
Location
My XLR/V(s)

Not yet!
GM 3.6L Direct Injection V-6 Engine Makes Ward's North American 'Ten Best Engines' List
The 3.6L V-6 VVT with direct injection in the Cadillac CTS recognized for second year for delivering fuel efficiency and performance
PONTIAC, Mich.
- General Motors' 3.6L direct injection V-6 VVT has been named to Ward's AutoWorld magazine's 2009 "Ten Best Engines" list for North America. The engine is within GM's growing portfolio of direct injection engines and part of GM's overall strategy to equip vehicles with advanced propulsion technologies that improve fuel economy and reduce emissions.
This is the second year that the magazine's editors have recognized this engine, which is in the 2008 Cadillac CTS - Motor Trend's 2008 Car of the Year - and six other models. The award will be presented in January at the North American International Auto Show.
"I am pleased that Ward's continues to recognize our leadership in engine development and our commitment to being a leader in rolling out technology such as direct injection," said Tom Stephens, GM executive vice president, GM Global Powertrain and Quality. "We are aggressively focusing on improving fuel economy and reducing vehicle emissions with direct injection as well as our many other advanced engine and transmission technologies."
GM Powertrain's 3.6L V-6 VVT with direct injection is GM's highest-output V-6 and one of the most fuel-efficient in GM's high-feature engine family, delivering a 3-percent fuel economy improvement over its predecessor. The 2008 CTS, when equipped with the 3.6L V-6 VVT with direct injection and six-speed automatic transmission, delivers EPA-estimated fuel economy of 17 mpg city and 26 mpg highway.
The application of direct injection also reduces cold-start hydrocarbon emissions by 25 percent.
Even with these fuel economy and emission improvements, the CTS delivers 304 horsepower (227 kW) and 273 lb.-ft. of torque (370 Nm) - a 15-percent increase in horsepower and 8-percent increase in torque. In addition, the engine helps the CTS achieve 0-60 mph performance of 5.9 seconds and a top speed of 155 mph (248 kph). The engine is designed to operate with regular unleaded gasoline and is available with either an automatic or a manual transmission.
With direct injection, fuel is sprayed directly into the engine cylinder, where it is mixed with air. As the fuel vaporizes in the cylinder, the air and fuel mixture is cooled. This enables the use of a higher compression ratio, which improves engine efficiency and performance.
In addition to the Cadillac CTS, the 3.6L DI V-6 engine is available in the 2009 Buick Enclave, Cadillac STS, Chevrolet Traverse, GMC Acadia, Saturn Outlook and Saturn Vue 2-Mode Hybrid.
GM also offers direct injection on its Ecotec 2.0L turbocharged four-cylinder engine found in the 2009 Chevrolet HHR SS and Chevrolet Cobalt SS, Pontiac Solstice GXP and Saturn Sky Red Line.
General Motors Corp. (NYSE: GM), the world's largest automaker, has been the annual global industry sales leader for 77 years. Founded in 1908, GM today employs about 252,000 people around the world. With global headquarters in Detroit, GM manufactures its cars and trucks in 34 countries. In 2007, nearly 9.37 million GM cars and trucks were sold globally under the following brands: Buick, Cadillac, Chevrolet, GMC, GM Daewoo, Holden, HUMMER, Opel, Pontiac, Saab, Saturn, Vauxhall and Wuling. GM's OnStar subsidiary is the industry leader in vehicle safety, security and information services. More information on GM can be found at
General Motors | Corporate Website | GM
.
# # #
CONTACT(S):
Tom Read
GM Powertrain Communications
Phone: 248-857-4006
E-mail:
tom.read@gm.com
Susan Garavaglia
GM Powertrain Communications
Mobile: 313-378-9335
E-mail:
susan.garavaglia@gm.com
David Caldwell
Cadillac Communications
Mobile: 586-899-7861
E-mail:
david.caldwell@gm.com