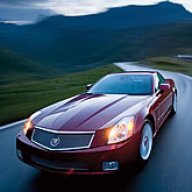 Seasoned Member
Staff member
Site Administrator
Joined

Oct 7, 2006
Messages

5,449
Location
My XLR/V(s)

Not yet!
GM Pondering Brand Cuts
Posted by: David Kiley on November 28
Business Week Magazine
The Detroit Free Press reported today that General Motors, in its attempt to put forth a workable restructuring plan to keep it from going bankrupt, is at least looking at killing off three brands—Pontiac, Saab and Hummer.
Everyone knows that GM is over-branded. The problem has long been that the company does not want to have to pay dealers to fold the brands it does not need as it did with Oldsmobile in 2001. State franchise laws prevent a car company from simply ending a brand. Closing down Oldsmobile cost the company around $2 billion.
It's unclear how GM could avoid paying big money to shutter the three brands.
Hummer has been on the selling block for months. The automaker has circulated a document to prospective buyers, which have ranged from Russian business moguls to Turkish private equity groups.
Saab is not thought to have any hot buyers. According to past conversations with GM execs, Saab Cars has never turned an annual profit for GM. It has, at times, made money in Europe. But those gains have always been off-set by losses in the U.S.
Saab is one of two Swedish car companies with limited interest from both consumers and investors. Ford, too, tried to sell Volvo earlier this year, and found no takers willing to pay Ford's asking price.
Both Saab and Volvo have a problem of not being quite luxury. Both premium brands have long had followings of people who place safety above all other vehicle characteristics. Saab has also attracted some performance-oriented buyers as the company has long offered turbo chargers in some of its models.
Volvo is on track to sell about 82,000 vehicles this year. Sales through October were down 28%. Saab is on track to sell about 20,000 vehicles this year. Sales were down 32% through October.
Earlier this year, GM CEO Rick Wagoner said GM did not have too many brands.
Pontiac has been starved of hot new products for two decades. The current lineup consists of the Vibe (a twin of the Toyota Matrix and engineered by Toyota, built at the joint-venture NUMMI plant in Calif.), the G6/G5, Pontiac Torrent (twin of the Chevy Equinox) and the G8 sedan. The G8 has been well received by auto journalists since its debut last year, but the large sedan category is so soft and sleepy that few have noticed. The Pontiac Solstice roadster convertible, while also well received by journalists, is such a niche product that it can't hold up the whole brand.
Pontiac sales are on track to sell around 280K to 290K vehicles this year. Sales through October were down 21%. A hefty percentage of Pontiac sales, though, are fleet sales to rental agencies.
At the core of GM's problems is that it does not have, and has not had, enough resources to feed eight brands with unique products, and then the resources to feed each brand with unique and competitive brand campaigns. Every industry analyst and consultant has told GM management that for 20 years. It is one of the reasons that Pontiac, Buick and Saturn in particular have had a revolving door of brand campaigns—each new brand chief groping in the dark for a new big idea that will kick-start bigger interest in these product portfolios.
The contrast with Toyota and Honda is astonishing. Toyota manages a 14.9% market share (throughOctober) with just its one brand. Yes, it has added Scion and Lexus. But the Toyota brand is amazingly efficient by putting so many efficiently produced vehicles under its flagship brand. Ditto Honda, whish has a 9.8% share.
Hummer, Pontiac and Saab together only manage a 2.5% share of the U.S. market, and I'm willing to bet at least .5 of that is rental fleet.
Nah….GM doesn't have too many brands.
A few years ago, ad agency Deutsch, which currently handles advertising for the Saturn brand, cooked up a brand positioning for Pontiac that focused on the gritty side of Detroit, and surrounded the brand with music reminiscent of Bruce Springsteen. The strategy was centered on performance, street rods and American car culture. But the decision was made that while the positioning was attractive, GM couldn't fund a product program that would live up to the ads.
GM has been merging dealerships into a single network of GMC/Buick/Pontiac stores wherever it can. That way, each dealer can manage a single showroom of products that has depth and breadth of sports cars, sedans, SUVs and trucks. But that strategy also depends on supporting three different, attractive brand strategies.
If GM can execute this plan, that would leave it with Chevy, Cadillac, Saturn, Buick and GMC. One of the arguments for keeping Buick is how well it sells in China. The Chinese are mad for the Buick brand. I'm not entirely sure, though, that GM would lose sales in China if it killed the brand in the U.S. Sure, some brands are global. But I'm thinking Buick would do just fine in China without U.S. sales.
Now, we are down to Chevy, Cadillac, Saturn and GMC. GMC sells well, and GM execs have long said there is now reason to kill it. There are a flock of consumers who go for the "Professional Grade" nonsense. GMC is, after, all just a slightly stepped of version of Chevy trucks and SUVs.
There is much argument for killing Saturn, too, leaving GM to concentrate in the U.S. on Chevy and Cadillac as the company. Indeed, without the GMC/Buick/Pontiac sales channel, I don't know how you would support GMC as a brand, unless you engineered a rapid consolidation of retail distribution perhaps selling GMC through Chevy or Cadillac dealerships.
But, as I said earlier, the big barrier is the state franchise laws, which give dealers a lot of legal firepower to get paid off if GM moves to shutter these brands. It seems like a reach that it would just close Hummer anyway as it still sees a market to sell the brand. GMC/Pontiac/Buick dealers would surely miss the sales volume from Pontiac. But is a GMC/Buick network really worth keeping long term?
As GM faces its near-death experience, asking Congress for survival money, it has to make some moves that tell analysts and legislators that is doing the things to fix its operations that everybody in the room knows it has to do.