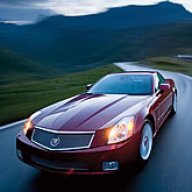 Seasoned Member
Staff member
Site Administrator
Joined

Oct 7, 2006
Messages

5,451
Location
My XLR/V(s)

Not yet!
GM's Henderson: Future rests on Chevy, Cadillac, Buick and GMC
Jamie LaReau
Automotive News
January 21, 2009 - 12:01 am ET
DETROIT -- General Motors will go to market with four core brands in the future: Chevrolet, Cadillac, Buick and GMC. Pontiac will be shrunk "significantly," a senior GM executive told the Automotive News World Congress on Tuesday night.
GM COO Fritz Henderson said that GM is conducting a strategic review of its Saab and Hummer brands and that the "status quo" for the Saturn brand will not work.
"We need to do something different with the Saturn brand," he said.
Henderson stopped short of saying GM would outright shutter the brand, but he made it clear that it would not remain in the same capacity and form it is today.
Likewise, GM is working with the Swedish government on a plan to help the Saab brand.
"We're engaged with the Swedish government as we speak," Henderson said. "We've talked to investors and we'll see where it goes."
Three-quarters of Saab sales are in Europe, he said. "Saab is not a U.S. strategy."
Henderson said the four core brands comprised 83 percent of GM's total sales volume in the United States last year.
Going forward, the Pontiac brand will "shrink substantially," Henderson said. But the fact that GM is investing heavily in the Buick brand in China will benefit that brand in the United States.
"When you see the new LaCrosse, it will be very familiar to the one you've seen GM reveal in China," Henderson said.
Asked if GM should have followed the 2006 advice of Jerry York, Las Vegas billionaire Kirk Kerkorian's former representative on the GM board, to sell Hummer and Saab, Henderson said, "With the benefit of hindsight, you might say we should have moved then."
If oil prices remain low, GM would be challenged to successfully sell key future vehicles such as the Chevrolet Volt plug-in hybrid sedan, he said. But GM is planning its future business around oil being $130 to $160 a barrel in the next few years. GM is projecting oil will be average about $53 a barrel in 2009, he said.
During his speech, Henderson outlined the volatile markets that led to GM's cash crisis late last year. He said that if GM does not get the second installment of the $13.4 billion loan the government granted, it will run out of cash before the end of March. GM is expecting a payment of $5.4 billion in the next few days, Henderson said. That payment was originally due last week, but was delayed by the change in administration.
The government gave GM the first installment of $4 billion on Dec. 31.
GM is working with its stakeholders to refine the viability plan it submitted to Congress on Dec. 2. In that plan, GM said it would direct most of its marketing and engineering resources toward Chevrolet, Cadillac, Buick and GMC.
Henderson said GM's next challenge isn't just streamlining operations and developing advanced technology, it's also fixing its public image.
"Our job is not only to build vehicles people want to buy," Henderson said. "But to communicate that people want to buy our vehicles."