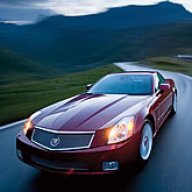 Seasoned Member
Staff member
Site Administrator
Joined

Oct 7, 2006
Messages

5,449
Location
My XLR/V(s)

Not yet!
New Caddy vee'd up
Fri, 11 Jan 2008
iAfrica.com
The new Cadillac CTS sports sedan is going extreme later this year with the arrival of the high performance, high luxury CTS-V…
Launching in the US in the fourth quarter of 2008, the range topper intends to combine the performance of a sports car with the poise and elegance of a prestigious luxury sedan. Part of Cadillac's V-Series of high-performance models, CTS-V delivers 410 kW and a suite of technical and design enhancements, including Magnetic Ride Control, a Performance Traction Management program and the addition of a new automatic transmission with paddle-shift control.
"The CTS-V represents the full extension of our design, technology and performance capabilities," says Jim Taylor, Cadillac general manager. "The V-Series takes the award-winning CTS sport sedan and elevates it to a position within the club of the world's most exclusive and capable cars."
Supporting Cadillac's ongoing global expansion, the 2009 CTS-V is planned to be offered outside North America for the first time, including exports to Europe, the Middle East and Asia.
Technical enhancements
The 2009 Cadillac CTS-V features what's billed as the world's fastest-reacting suspension technology, Magnetic Ride Control (MRC). It uses shocks controlled by electro-magnets, rather than mechanical valves, thus accelerating response time. Electronic sensors at all four wheels "read the road" every millisecond, making constant adjustments to damping to create virtually instantaneous and precise control of body motions. This is of particular benefit for a high-performance sedan, helping to keep the car composed during hard cornering, acceleration, braking and other dynamic manoeuvres.
MRC technology first appeared on the Cadillac STS performance sedan and has since been used on other cars including the Chevrolet Corvette.
Enabling the control expected in a high-performance sedan, the CTS-V features the Performance Traction Management system which uses electronics to manage engine torque for improved traction during acceleration. In situations such as acceleration from a stop or exiting corners, Performance Traction Management regulates torque delivery to better the launch off.
Performance Traction Management uses the same sort of electronics as stability control programs such as Cadillac's StabiliTrak system, but applies it in a different manner. Rather than monitoring and controlling wheel slip to assist in stopping or slowing the car, PTM regulates torque delivery to match the available tyre grip for improved acceleration.
CTS-V also includes advanced braking and tyre systems. Brembo brakes are at all four corners and include powerful, six-piston calipers in the front and four-piston calipers in the rear. Michelin worked with Cadillac engineers to develop its Pilot Sport 2 (PS2) summer tyre for CTS-V and its 19-inch wheels.
And, of course, there is the matter of power. It has increased nearly 35 percent for the '09 CTS-V, via a new 6.2-litre LSA supercharged V8 engine generating an estimated 410kW and 745Nm of torque. A sixth-generation Eaton supercharger minimises the added noise previously associated with supercharged engines, and tightly controls intake air temperature for better performance.
Transmission choices include either a six-speed manual or an exclusive, six-speed automatic with steering-wheel-mounted paddle shifters. It is the first automatic offered on the CTS-V.
Accentuated design
The 2009 CTS-V extends Cadillac's design language, both inside and out. The V-Series includes all the elements of the CTS sport sedan's cabin, while adding some elegant and purposeful accents.
V-Series will offer 14-way adjustable Recaro performance driving seats that include pneumatic bolster controls in the seat cushion and backrest. A microfibre material is added to the steering wheel, seats and shifter, providing the feel and appearance of suede.
The car's integrated centre stack is trimmed with a new Obsidian material that is also applied to the centre console and door trim. Just like every CTS, the V-Series includes a hand-stitched instrument panel, door trim and centre console. Infotainment features, including a 40-gigabyte hard drive, advanced navigation system with a "pop-up" screen and Bose digital surround audio, extend to the V-Series, as well as factory-installed Bluetooth capability.
The exterior of the new CTS-V is described as both more assertive and more elegant than the standard car. The dihedral Cadillac grille is larger to enable more air intake and features a satin finish, while the raised hood encompasses the supercharged engine, and new front and rear fascias identify the vehicle as a V-Series. The car's 19-inch wheels enhance its stance on the road.
The founding member of the V-Series, CTS-V was initially offered in 2004 and sold primarily in North America through the 2007 model year. The supercharged STS-V and XLR-V were added in 2006 to make the V-Series an exclusive trio of models all capable of zero-to-100 acceleration in less than five seconds with enhanced overall performance and luxury features.