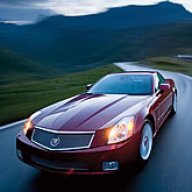 Seasoned Member
Staff member
Site Administrator
Joined

Oct 7, 2006
Messages

5,449
Location
My XLR/V(s)

Not yet!
Powerful, but Not Persuasive
By RICHARD S. CHANG, New York Times
Published: December 2, 2007
TESTED
Cadillac STS-V
WHAT IS IT?
Full-size rear-drive performance-tuned sedan.
HOW MUCH?
$77,855 as tested, including $2,100 guzzler tax (2007 model).
WHAT MAKES IT RUN?
A supercharged 4.4-liter V-8 (469 horsepower, 439 pound-feet of torque); six-speed automatic transmission.
IS IT THIRSTY?
Indeed, at 13 m.p.g. in town and 19 highway (2008 model).
ALTERNATIVES
Audi S6 ($74,020); BMW M5 ($86,675); Mercedes-Benz E63 AMG ($87,875).
ONE of the lasting memories from my childhood is sitting behind my father in the family Cadillac, a powder-blue '82 Sedan de Ville.
Everything about it was big. My father prized smoothness in a car above all else; he still does. I remember being fixed on his eyes and his gentle expression in the rearview mirror as he basked in the car's stately ride.
I thought about this as I cruised languorously up 10th Avenue in Manhattan recently in a Cadillac STS-V. Driving on a wide boulevard in a big Caddy can put you in a certain state of mind. It's relaxing and reassuring, much the same as walking in expensive shoes.
As I imagined the knob of my father's right elbow propped on the seatback I wondered what he would think about the V-Series, Cadillac's reply to BMW's M division and Mercedes-Benz's AMG.
The V performance makeover, available for the STS sedan and the XLR roadster, is built around a hardy engine upgrade. The STS-V's supercharged 4.4-liter V-8 makes 469 horsepower, which is 149 more than the naturally aspirated STS V-8 and 179 more than the V-6 base model.
The first Cadillac to get the V treatment was the CTS sport sedan (though no V model was released when the CTS was redesigned for 2008; it will return in 2009). The first-generation CTS-V was equipped with a Corvette V-8, replacing the car's standard V-6, and came with performance suspension and brakes. It was far faster and harder than the CTS could ever dream to be; it felt like a different model altogether.
I'm sorry to say this car does not go through the same personality change.
The supercharged engine makes the STS-V the most powerful production vehicle in Cadillac history —in testing by Road & Track, it sprinted to 60 miles an hour in 4.7 seconds. But at nearly 4,300 pounds, the STS-V is a heavy car, too heavy, and the weight detracts from its performance aspirations. The six-speed automatic transmission lags enough to be noticed, and even when all the horsepower is summoned, the STS-V prefers to stay true to its luxury-car roots.
Other performance modifications include a tuned suspension with larger stabilizer bars; wider wheels (18 inches at the front and 19s at the rear); and larger brakes with Brembo four-piston calipers. Special V-Series touches for the exterior include a wire mesh grille and a special hood to provide clearance for the supercharger.
But in the end, the STS-V never feels too different from the standard STS. And the issue turns to whether it is worth the money.
The 2008 STS-V starts at $79,110. I tested a 2007 model, but there were few changes for the new model year. For about $25,000 less, you can get a V-6 STS equipped with the Luxury Performance package, which shares the same interior and electronics as the STS-V, including satellite navigation and a Bose surround-sound audio system. Sure, the STS-V is faster and slightly better behaved in the turns, but is it $25,000 better? I'm not so sure.
While the STS-V is a very good car, it is more Cadillac than V-Series, which is fine. But cruising comfortably in a standard-issue STS, cocooned from traffic, you aren't likely to miss the V-Series features at all.