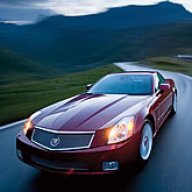 Seasoned Member
Staff member
Site Administrator
Joined

Oct 7, 2006
Messages

5,449
Location
My XLR/V(s)

Not yet!
Statement From Rick Wagoner, Chairman And CEO, General Motors Regarding Energy Bill
FOR RELEASE: 2007-12-03
"There are tough, new CAFE standards contained in the energy bill before Congress that pose a significant technical and economic challenge to the industry. But, it's a challenge that GM is prepared to put forth its best effort to meet with an array of engineering, research and development resources. We will continue our aggressive pursuit of advance technologies that will deliver more products with more energy solutions to our customers."
Background
GM has an established track record of innovation and a commitment to improving the fuel economy in its cars and trucks. Years of engineering and development, and billions of research dollars have produced the GM vehicles that you see on the road today. Currently, GM offers more vehicles that achieve 30 mpg on the highway, more flex fuel vehicles that can run on E85, and groundbreaking technology such as GM's two-mode hybrid system found in our full-size light trucks. Far from standing still, GM has more cars and trucks on the way that will offer the broadest line-up of "green" technology.
Here's how GM plans to lead the industry:
GM will continue to improve the internal combustion engine, and to dramatically intensify its efforts to displace petroleum fuels with bio-fuel alternatives such as ethanol--the best, near-term solution to actually reduce gasoline consumption. GM alone has produced over 2.5 million E-85 capable vehicles to date--more than any other automaker.
GM is also releasing an average of one new hybrid model every three months for the next two years that includes the Saturn Vue and Aura Green Line, and Chevrolet Malibu. This year, we've introduced the Chevrolet Tahoe and GMC Yukon two-mode hybrid (the only hybrid system developed and built in the U.S. at our Baltimore, MD transmission plant) that get a 50% improvement in city mileage over gas versions. This level of performance earned the Chevy Tahoe two-mode hybrid the "Green Car of the Year" award at the LA Auto Show. For next year, we'll be launching three additional two-mode hybrid versions of the Cadillac Escalade, and Chevrolet Silverado and GMC Sierra full-size pick-ups.
In addition, GM is significantly expanding its development work on electrically driven vehicles like the Chevy Volt and fuel cell vehicles. This year, two advanced battery development contracts were announced and in August, GM and A123Systems announced an additional agreement to speed development of batteries specifically designed for the Chevy Volt's extended range electrical powertrain.
CONTACT(S):
Greg Martin
Director, Policy and Washington Communications
General Motors Corp.
25 Massachusetts Ave., NW
Suite 400
Washington, DC 20001
(t) 202-775-5008
(c) 202-744-6285