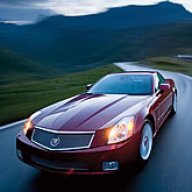 Seasoned Member
Staff member
Site Administrator
Joined

Oct 7, 2006
Messages

5,442
Location
My XLR/V(s)

Not yet!
UAW expected to ratify new GM deal by wide margin
Automotive News
May 28, 2009 - 4:01 pm ET

DETROIT (Reuters)
-- A majority of rank-and-file members of the UAW approved a ratified agreement with General Motors today that will give the union a stake in the U.S. automaker in return for concessions, according to initial tallies.
"This is tough for our members, but our hands are tied," said Dwight Chatham, president of UAW Local 211 in Defiance, Ohio, whose members voted 77 percent in favor of the amended agreement. "We want to help GM survive."
"Now this is back in the hands of GM and the government," he said. UAW Local 211 represents nearly 1,300 workers.
The ratified agreement, announced earlier this week, is part of GM's plans to restructure its business and smooth its passage through Chapter 11 bankruptcy protection. The company is expected to file for bankruptcy in the next few days.
An administration official said the decision to file will be a "judgment call."
Under terms of the amended agreement, the UAW would receive half the $20 billion GM owes a union-aligned healthcare trust in the form of stock and new debt instead of cash.
GM's roughly 54,000 UAW-represented U.S. factory workers began voting on the agreement on Wednesday and should conclude by the end of the day today.
UAW president Ron Gettelfinger told Reuters that some 40 percent of the total vote had been counted and that the final tally should be completed at around 4 p.m. EDT on Friday.
Workers at UAW Local 1853 in Spring Hill, Tenn., which represents some 3,000 workers, voted 88.2 percent in favor of the amendment, an official said.
At UAW Local 276 in Grand Prairie, Texas, which represents 2,500 workers at a plant producing heavy sports utility vehicles such as Yukon and the Escalade, workers also approved the deal, according to a local official who did not provide a precise tally.
Workers at UAW Local 1005 also gave the amended agreement majority support, according to local president Tito Boneta, but he did not provide a specific tally.
The membership of UAW Local 602 in Lansing, Mich., voted 70 percent in favor, according to the local's Web site.
And members of UAW Local 31 in Kansas, which represents some 2,100 workers who work at a plant that makes the mid-size Chevrolet Malibu, also ratified the amended agreement.
A local official said production workers voted 62 percent in favor of the deal, while skilled trades workers voted 70 percent in favor.