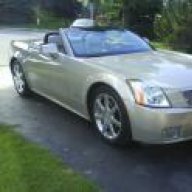 Joined

Aug 31, 2008
Messages

37
Location
My XLR/V(s)

2006 Gold Mist XLR
(Skip to the bottom for my point and what I am interested in getting more info on)
Hey everyone! I'm new to this site and just bought my XLR. It was a long time coming as at first I wanted a

viper

.....then I went to

Porsche

....which I still kick my self in the butt about. But both my wife and I love the XLR. Its very rare and most people have no clue what it is. It gives any XLR owner the sense of extreme exclusivity into a high class luxury car.
However....
I notice not that many things are left to say about the car. All I read about is problems people are having with the cars tops or other electrical components....so what did we spend money on? Granted the dealerships are more then happy to fix them if under warranty but what gives? Why not make the car perfect from the get go? I haven't had many issues my self but I have had to bring it into the shop a few times. Shouldn't GM take a good look at there ever dropping sales and say

...."hmmm...wonder why?"

Well GM....it's not because you don't make a great looking car but because you make a poor quality car. XLR is one of the top priced Cadillac's and one of the top priced cars that GM makes. So why not admit you made a poorly made car and help us out? Extend our warranties or something...or at least have all issues addressed on some kind of massive recall? We are the ones who willing spend the

$50-100K

on a two seater and maybe even the same on our family car. Instead.....I'm looking at the Porsche Cayenne as my family car and not an Escalade.
Anyway...thanks for reading my little vent session...
My point is, has any one gotten great treatment from GM on the problems they face or does anyone have any tips on how to go about getting better or extended service for our XLR's?
Lets hear it folks!