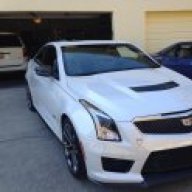 Joined

Jul 7, 2017
Messages

156
Location
My XLR/V(s)

2016 ATS-V Coupe; 2004 XLR
After reading pur zen's thread written on 11-12-16 about the 2016 ATS-V, I just wanted to share my recent 2-1/2 day experience when I was invited to attend the Cadillac V-Performance Academy at Spring Mountain Motor Resort in Pahrump, NV.
For two days they treated us like kings! Airport transportation was provided to and from the Las Vegas airport. We were put up in a beautiful condo on-site, complete with full kitchen and bath, and a gorgeous view of the mountains and racetrack view from our balcony. Breakfast, lunch, and dinner were provided both days, prepared by their executive chef. We were also given a new Cadillac to personally use during our stay. A CTS V-Sport if I recall correctly.....
As home to the exclusive Ron Fellows Corvette performance driving school, the new Cadillac V-Performance Academy as well as racing schools and more, they have something for every driver, from entry-level to expert. During my course, we learned to take the car from the left entry lane to the raceway and experience ultimate performance. The V-Performance Academy is an exclusive opportunity to test the motorsports pedigree of the ATS-V and CTS-V on one of the nation's most demanding racetracks. With 464hp in the ATS-V, the program is designed to assist V-Series owners in mastering their vehicle's immense power and capabilities, while expanding their driving skillset.
Although I'm traditionally a straight line street racer, it's a once in a lifetime experience. It's amazing to see how the car that I drive around the street every day, can skillfully and menacingly drive around a race track! This experience gave me a totally new outlook and respect for track racing. I was really and truly impressed with the knowledge and experience of the instructors who were all professional race car drivers. Several of them are even involved with NASCAR racing.
I also never realized I that I was susceptible to motion sickness. I never got seasick, & hardly ever got carsick unless I wasn't driving, until I drove at this track. It is 1.5 miles long course, I believe, with 8 turns, which is enough to make even the strongest stomach turn even a little bit. Sadly I had to admit to myself there was no 2nd career for me in Motorsports style racing.
In summary, I had the time of my life for 2 + days, an experience I'll remember for the rest of my life. What about the ATS-V car itself? I never, never realized what kind of car I had been driving around for the past year! No clue! Sure, I read this and that in several car magazines, but to be honest I was CLUELESS to what I have been driving around thinking it was just a fairly fast and hot looking straight-line drag racing car! To be honest, if I had been to the driving school
before
I purchased the XLR for my wife as a wedding present, I would definitely have purchased an XLR-V car for her....who knew?

Thanks for listening....
Wife's XLR/Sal
Last edited: