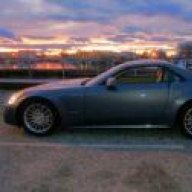 Joined

Mar 29, 2014
Messages

353
Location
My XLR/V(s)

2007 Liquid Amethyst
hi all,
i've had this problem for a while now, havent seen another post like it so i figured i would ask.
my 07 has the adaptive headlights, drivers side moves left and right, like its supposed to. but the passenger side doesnt move.
its just stuck in one position. unfortunately its aimed too far left so its almost crossing over the other headlight beam.
it also happens to be aimed low.
neither condition is very noticeable, but i know its not right and it bugs me.
i dont want to replace the whole unit since it works fine, and they cost a fortune.
so i'm looking for repair or adjustment advice.

i think the vertical adjustment can be fixed easily, by turning the adjuster.
more importantly
how does the left/ right adaptive control work,
if i take the bulb out can i manually turn the housing to center it ? or is there any horizontal adjustment screw like there is for vertical??

i would love to get it working, but i'm ok just getting it centered and leveled.

is there a motor or gear in the adaptive part that could be jammed ? or control unit that is separate from the main headlight unit?
if i unplug the wires and replug them in, does the headlight do an automatic left right recenter movement??
i'm trying to figure out how the adaptive part works, and if its repairable, or at least manually adjustable...