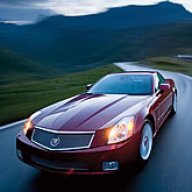 Seasoned Member
Staff member
Site Administrator
Joined

Oct 7, 2006
Messages

5,451
Location
My XLR/V(s)

Not yet!
Bailed-out GM unlikely to back 'Transformers' sequel

Claude Brodesser-Akner
Advertising Age
March 2, 2009 - 4:03 pm ET

LOS ANGELES -- For General Motors, 2007 must seem like a long time ago. Not that the automaker was without its share of financial problems even then. But that summer it was preparing for a major tie-in with Paramount Pictures and DreamWorks Pictures' eventual blockbuster Transformers.

For GM, it was a significant move to become a major player in entertainment projects. The company no longer would simply give away its cars and trucks. They would be central to the plot or be characters -- and what better forum for that than a movie whose stars are robots disguised as cars?

But when Paramount's sequel, Transformers: Revenge of the Fallen, blasts into theaters this July Fourth weekend, GM may not even be alive in its current form to reap the benefits of what is expected to be another worldwide blockbuster. And wither the movie studio, which often relies on marketing partners to help sell films during the crowded summer action-movie season?

Though only a few of the GM models featured in the first Transformers were available for purchase at auto dealers, the carmaker nonetheless benefited from its heavy exposure in the Michael Bay movie. The film grossed about $900 million worldwide, and insiders familiar with the film's DVD-sales demographics said Transformers helped Chevrolet cull a list of about 500,000 consumers interested in its relaunched 2010 Chevy Camaro, which will reach dealers this spring. More than 10,000 consumers reportedly ordered the muscle car last fall.

A GM spokeswoman said the first film gave GM "measurable improved perception of the Chevy brand and generated widespread consumer awareness." She declined to offer specific data.

GM support limited

These days, many are well aware of not only GM and Chevy but all of Detroit and its deepening financial crisis. Last week, GM reported a global net loss of $30.9 billion for 2008, including a net loss of $9.6 billion in the fourth quarter. The automaker disclosed that it will slash marketing in North America by $800 million this year alone.

GM's troubles mean Paramount faces its own logistical challenges in marketing the sequel. While production insiders said GM spent "tens of millions" integrating its products into and promoting the first film, they say the sequel will get far less, if any, TV marketing support from the carmaker.

A Paramount spokesman declined to comment on the marketing of the film, saying its plans were being firmed up. But if GM does scale back, Paramount may be pushed to make up the shortfall on its own. In recent years, Hollywood studios have enjoyed a $30 million to $50 million boost in "soft" promotional support for their blockbusters from consumer brands that tie in to films. That marketing means a studio can scale back spending where its marketing partners are boosting theirs.

Execs fear bailout backlash

GM executives, who already have been raked over the coals for flying to Washington in corporate jets to seek loans, are said to fear being pilloried by congressmen and watchdog groups for using their funds in the same way executives at Citigroup and Bank of America were browbeaten for considering using money from the Troubled Asset Relief Program for sports-related deals.

Indeed, in the past 12 months, the carmaker has been forced into a new frugality, abandoning many long-standing entertainment marketing initiatives. GM terminated a relationship with Tiger Woods as Buick's spokesman with a year left on the contract and dropped out of the Academy Awards telecast as a major sponsor.

In a statement, a GM spokeswoman declined to speak to company plans for promoting the film, saying only that Chevy's integration into Revenge of the Fallen is "a great opportunity to connect with new and returning movie fans, on their terms, in a dynamic way. The new characters represent the change going on in Chevy showrooms -- from the exciting Camaro, the 21st century sports car, to the game-changing Volt."

Opinion appears divided as to whether that will prove true, given how uncertain GM's future is.

On screen, but not on sale

While the "Bumblebee" Camaro in Transformers is priced attractively at Chevy dealers ($23,000 for the base model compared with the National Automobile Dealers Association's average new-car cost of $28,400), none of the other featured characters' alter egos will be for sale. Those characters include "Sideswipe," a concept Corvette handpicked by director Bay from GM designers' drawing boards; "Jolt," a stylized Chevrolet Volt; and "Mudflap," an all-electric version of the planned Chevrolet Beat called the Chevy Spark, which won't be offered until 2011 at the earliest.

Still, Karen Sortito, formerly executive vice president of worldwide promotions at MGM Pictures, said the branding exercise has value even without a big promotional push on TV from GM.

Sortito, who integrated BMW's Z3 roadster into the 1996 MGM James Bond film GoldenEye, said that although that was a success, BMW was reluctant to integrate its 7-series cars into subsequent Bond films because it was not a launching a model. But when pushed, she said, BMW refused to leave the franchise. The reason, she said: "Building your image sometimes makes more sense, even if it wasn't going to move the needle on your car business."