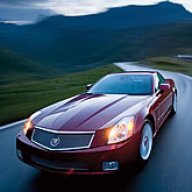 Seasoned Member
Staff member
Site Administrator
Joined

Oct 7, 2006
Messages

5,449
Location
My XLR/V(s)

Not yet!
Cadillac CTS-V -- the four-door Corvette
Posted By: Michael Taylor | April 03 2009 at 01:03 AM
SFGate.com
If you were waiting for General Motors to make a four-door Corvette, this is just to let you know -- it's here. But it arrived in Cadillac mufti.
This is the machine for those who want the Corvette's performance, but can live without the whiz-bang, low-slung, LOOK AT ME! aura that a Corvette creates. Believe me. The car I had before the Cadillac was a blue Corvette convertible; driving it around town is a little like walking naked down Market Street. People do stare.
Not so with the CTS-V, the Cadillac that looks like most other CTS sedans (angular, high beltline, and an air dam on the front that a friend of mine said looked like a snowplow).
GM is in a woeful, awful condition these days, but Cadillac and, specifically, the CTS, is a singular high point in an otherwise largely dispirited crew of car people stranded on a desolate stretch of nondescript highway.
The company is on the ropes and no one is to blame except GM. So it's a true puzzle how there can be these occasional shining flashes of genius in the wilderness.
The CTS, introduced in 2003, is GM's German-car fighter. It's the one that goes up against BMW, Benz and Audi. The plain vanilla version sports a 3.6-liter, 263-horse V6 and is fine for trundling about town on a bunch of errands. It's a Cadillac, so it's comfortable and quiet. And it's not huge, gunboat-large Cadillac. All very well, if that's what you want. But then there's the CTS-V.
In the V's first incarnation, back when Cadillac introduced the CTS, you had to make do with the 400-horse small-block Chevy motor that came from that era's Corvette. No slouch on the road, but, well, just not the same as the V we tested recently.
The 2009 version carries a calmed-down version of the 6.2-liter engine that gives the Corvette ZR1 its singular voice. Instead of 638 horsepower (the Corvette mill), the CTS-V has only 556 horses. Only.
This puts the car squarely in the lofty territory occupied by the likes of BMW's M5 (about $85,000), Audi's S6 (about $75,000) and Mercedes-Benz's E63 AMG (about $87,000). The as-tested price on the CTS-V was $67,140. That is not a bad deal, given that the CTS-V is one thunderingly fast car (GM claims zero to 60 in 3.9 seconds, with a top end of 175 mph; 191 mph if you choose the six-speed stick).
But again, we have to go back to the Corvette analogy: When you crank up the Cadillac, the noise coming from those twin pipes is a slightly muted version of the deep-throated, unmistakably Big-Block Chevy V8 go-fast, damn-the-torpedoes, full-speed-ahead engine. It's just that five people fit in the CTS.
And what do the five people get?. Well, here it's a mixed bag, at least for me. I thought the interior was well laid out, pretty sumptuous, not as hard-edged as the German cars, but there was one glaring problem: the extra-cost ($3,400) Recaro "high performance" seats.
When I first got into the car, I thought the last driver of this Testmobile had left the lumbar support jammed all the way out, toward the steering wheel. It was dark and I was late, so I didn't have time to fiddle with it. I drove home, 15 miles, sort of crouched forward in an effort to save my lower back. Once home, I played with the electric seat adjusters. Eventually, the lumbar lumbared less, but I could never get it to completely subside. There was always a lump in the lower back area of the seat and it would not go away. I'd suggest potential buyers look for a car with the stock seats.
On the plus side of the comfort coin was the suede-covered (faux suede?) steering wheel. Smart idea. Tarted-up steering wheels are all the vogue these days -- wood inserts, leather wrappings, heated wheels. The reason I liked the Caddy's suede wheel was because on cold days it was warm, and when it was hot, the wheel was comfortable. Try that with a plastic wheel -- it's freezing in the winter and scalding in the summer.
Out on the road, all that Corvette heritage comes into play -- the car is extremely fast (Ed. note: duh!), its huge Brembo brakes haul it down in a hurry, and it goes around corners like, well, one of those German guys we were talking about earlier. Except you get to save about $20K by buying the Cadillac.
In a way, it's kind of fun that Cadillac, with its half-century-old reputation for making Barcalounger cars, big boats that float unfeelingly down the highway, is now making one of the hottest performance sedans on the planet.
You might do well to grab one before the company disappears in a puff of bankruptcy-riddled smoke.
SPECIFICATIONS
2009 Cadillac CTS-V, four-door rear-wheel-drive sedan.
Price:
test model, $67,140. (base price $57,920)
Powertrain:
6.2-liter V8 556-horsepower engine; six-speed steering wheel-mounted buttons and center-stick automatic transmission (six-speed manual available.)
Curb weight:
4,300 pounds.
Seating capacity:
five.
Fuel consumption :
12 mpg, city; 18 mpg, highway.
Fuel tank capacity:
18 gallons.
Length:
191.6 inches; width: 72.5 inches; height: 58 inches; wheelbase: 113.4 inches.
Warranty:
bumper to bumper: four years/50,000 miles; power train: five years/100,000 miles.
Dependability:
Cadillac ranks third (above industry average) out of 37 brands on the J.D. Power and Associates 2008 Vehicle Dependability Study.
Safety:
for vehicle safety ratings, visit the Insurance Institute for Highway Safety and the National Highway Traffic Safety Administration.
Source:
General Motors; U.S. Environmental Protection Agency