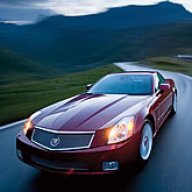 Seasoned Member
Staff member
Site Administrator
Joined

Oct 7, 2006
Messages

5,391
Location
My XLR/V(s)

Not yet!
Cadillac's chief engineer tells how ATS-V will take on the luxury imports
Richard Truett
Automotive News
May 2, 2015 - 12:01 am ET
Cadillac officials are taking a conservative view of the sales potential of the brand's latest model, the ATS-V high-performance sport sedan. The ATS-V is engineered to take on BMW's M3/M4 and performance machines from Audi, Mercedes and Lexus. As with earlier newcomers to the segment, the ATS-V faces a tough job breaking through.
But early reviews indicate that Cadillac did a thorough engineering job and has given the car the power, handling and equipment necessary to compete with the best in the segment. Dave Leone, 57, Cadillac's chief engineer, spoke with reporter Richard Truett in Austin, Texas, about the car.
Q. Why re-engineer the ATS-V to compete with top European sport sedans when few buyers look to Cadillac for that level of performance?
A. Anyone can put a high-power motor in a car and get it to go fast in a straight line. But to get it to go around a track -- to be able to get the maximum amount of lateral acceleration, so that they all work together seamlessly -- is where the real skill is. And that's what defines the best performance. Cadillac is all-around excellence. And the excellence comes from the integration -- tying the high-speed power and the transmission, chassis, steering controls and traction control -- tying it all together. And that's really where the difference comes out.
How does Cadillac -- or General Motors -- maximize its investment in this technology? Does it filter down to other vehicles?
We think we have one of the most sophisticated integration teams in the business. We have some high-performance folks that work on the V series, some Corvette and Camaro high-performance vehicles, and we use some of that same skill on our Opel OPC [Opel Performance Center] and programs and our racing program. We actually transfer people into the racing program and then back into production development. The way we capitalize on it is by sharing expertise and sharing technology and hardware. For example, our electronic limited-slip rear differential is used on the Corvette, on the Corvette Z06, on the CTS-V and on the CTS Vsport. The magnetic ride control was first used on a Cadillac and is also employed now on the Corvette and Camaro ZL1 and is standard on Cadillac. So, using that technology across our premium brands is the way we capitalize and monetize it.
Full Story:
Cadillac's chief engineer tells how ATS-V will take on the luxury imports