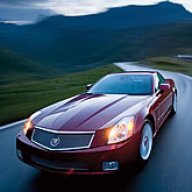 Seasoned Member
Staff member
Site Administrator
Joined

Oct 7, 2006
Messages

5,442
Location
My XLR/V(s)

Not yet!
Cadillac's performance and technology showpiece
Arv Voss
San Francisco Chronicle
Friday, March 13, 2009
The 2009 Cadillac CTS sedan is a nice ride that provides an above average level of performance. And, if you like the base CTS, you'll be thrilled by the latest CTS-V Series Cadillac. The 2009 CTS-V is one wicked-looking machine - perhaps a bit angular for some, but count me in as a fan. It's also not out of context to think of this latest iteration CTS-V as a high-performance luxury sedan version of the Corvette ZR1. The 'vette generates a higher boost from its supercharger and sports a different exhaust, but they share the same basic engine.
The power source is an extremely healthy, new LSA 6.2-liter supercharged, intercooled OHV V8 engine with 16 valves and sequential center-feed fuel injection. The engine is longitudinally mounted up front and pumps out an SAE-certified 556 horses at 6100 rpm along with 551 pound-feet of torque at 3800 rpm. Motive energy is delivered to the rear wheels via either a Tremec TR6060 - six-speed, fully-synchronized manual gearbox with a single overdrive, or a new, electronically controlled Hydra-Matic 6L90 six-speed automatic overdrive with torque converter clutch. The engine is the most powerful ever offered in the nearly 106 years of Cadillac's history. The automatic transmission features both steering wheel paddle shifters and console-activated shift capability for tap up/down gear control along with driver selectable modes delivering different performance characteristics such as shift points and firmness. It employs a twin-plate torque converter clutch to match the engine's torque output.
This latest CTS-V is capable of rocketing from 0 to 60 mph in a scant 3.9 seconds. In recent testing at Germany's famed Nurburgring's Nordschleife course, a CTS-V that was equipped exactly as planned for production and driven by John Heinricy, GM performance division executive and racing driver, completed a lap in only 7:59:32 - the record for a production sedan.
The CTS-V displays a more aggressive appearance than its base counterpart. It amplifies the assertive stance of the standard car and seems to radiate the car's increased performance capabilities. The grille is larger, allowing increased air flow to the potent engine, while the hood is raised to accommodate the supercharger. The pronounced and extended front and rear fascias are new and readily identify it as a V-Series vehicle.
The interior of the V-Series includes all the plush elements of the CTS sport sedan, and then some. Extras include available Recaro performance seats, a suede-like microfiber covering for the steering wheel, seats and shifter. The center stack is trimmed in a new obsidian material, which also appears on the center console and door trim. The instrument panel, door trim and center console are hand-stitched. There's a 40-gigabyte hard drive supporting the info-tainment systems, an advanced navigation system with a pop-up screen, Bose digital surround audio system and Bluetooth capability.
The CTS-V features Magnetic Ride Control (the world's fastest-reacting suspension technology) with electro-magnetically controlled shocks, adding to the car's cat-like agility.
My test 2009 Cadillac CTS-V sported a Radiant Silver exterior finish with a Light Titanium interior featuring Ebony trim accents. The base sticker was set at $57,920. With Recaro high performance seats and metal pedals, navigation system with XM Nav-Traffic, microfiber steering wheel and shift knob, gas guzzler tax and destination charge, the final total was $67,140.
Summary
Cadillac provided local auto journalists the chance to experience this latest iteration CTS-V at Infineon Raceway. It proved itself as a high-performance sedan with all the luxury amenities that Cadillac owners have come to expect. Acceleration is blistering, it stops on a dime and the ride quality, though firm, is comfortable. Steering is precise and predictable.
The CTS-V is an exceptional luxury sport sedan that is exceptionally quick and quite plush, providing two more doors, another seat and surroundings that are more posh than the ZR1 Corvette - for a lot less money.
-- For more columns and reviews, visit sfgate.com/cars.
2009 Cadillac CTS-V
Base price: $57,920
Price as tested: $67,140
Engine/transmission: 6.2-liter, 556-horsepower V8; six-speed manual
Wheelbase: 113.4 inches
Length: 191.6 inches
Width: 72.5 inches
Height: 58 inches
Curb weight: 4,300 pounds
Fuel capacity: 18 gallons
Fuel consumption: 12 mpg city/18 mpg highway
SFCHRONICLE CARS is produced by the marketing department of The San Francisco Chronicle.
For advertising rates and information, contact Brian Maier at (415) 777-8956 or
bmaier@sfchronicle.com
.