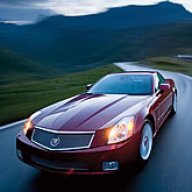 Seasoned Member
Staff member
Site Administrator
Joined

Oct 7, 2006
Messages

5,451
Location
My XLR/V(s)

Not yet!
Cadillac's success is key to General Motors' revival
Christine Tierney / The Detroit News
July 9, 2009
When General Motors Corp.'s top executives were choosing this year which brands to keep and which to ditch, Cadillac was unquestionably deemed to be a valuable asset that should be part of a new GM.
The most iconic of GM's brands, Cadillac is known worldwide. In its heyday, it rolled out some of the most beautiful cars ever built, the fin-tailed sedans of the '50s and '60s that symbolized American optimism across the globe.
"We all use the expression 'the Cadillac of toasters' or 'the Cadillac of something else.' It still means 'the best of' to a lot of people," said Csaba Csere, a contributing editor to Car and Driver magazine.
But although people still use the phrase, they're not buying the cars in large numbers. Cadillac holds barely 1 percent of the U.S. market, trailing BMW, Lexus, Mercedes-Benz, and even Honda Motor Co.'s Acura.
GM had set out in recent years to restore the brand, designing attractive models such as the acclaimed CTS mid-size car, improving the quality and refining the interiors.
But Cadillac's transformation had been only partly achieved when global auto markets -- and GM's finances -- collapsed.
With GM now in bankruptcy and likely to count every penny for years to come, it will be hard-pressed to mount a challenge to the leading luxury carmakers.
But GM still intends to compete against the top names in the industry. It needs a luxury brand to showcase its best technology and designs, and to retain customers as they progress from mainstream to premium cars. "You can't have a successful GM without a successful premium brand," said Cadillac General Manager Steve Hill.
Restoring Cadillac will require GM to weigh the brand's long-term needs against short-term financial pressures on the company. In addition to GM's constrained finances and the weak state of global car markets, Cadillac is battling the perception, according to brand expert Alexander Edwards, "that all the domestics are on the losing side."
That impression may be compounded by GM's bankruptcy. But bankruptcy also provides GM a chance to put the Cadillac business on a solid footing.
As part of its court-supervised restructuring, GM is eliminating all but four brands: Cadillac, Buick, GMC and Chevrolet. "We'll be able to focus more effort on individual solutions and technologies for the four remaining brands," said Cadillac product director John Howell. "They're already getting more attention from engineering and design than they were six months ago."
Under bankruptcy, Cadillac will be able to cut its dealers from 1,500 to 500, enabling the survivors to reduce discounts and become more profitable.
Cadillac is revamping its lineup, too. It is developing a large sedan, the XTS, to replace the STS and aging DTS cars. It will build a small car to compete in the segment dominated by BMW's 3 Series.
It is now launching the SRX crossover with taillights that evoke glamorous fins of the past.
Next month, Cadillac will roll out a CTS wagon and a coupe next year. "You'll see us playing in all those segments," Hill said.
By many measures, Cadillac holds its own against the top-tier luxury brands. "They're there in quality," Csere said. "Some models are absolutely there in styling." The CTS-V, the performance version, "is perfectly capable of running with a BMW M5 or a Mercedes E63 AMG."
Alexander Edwards, a partner at the San Diego consulting firm Strategic Vision, said Cadillac scores well in surveys measuring "things gone right" -- features that appeal to customers, as opposed to the absence of flaws. In the latest survey, it beat out Lexus and BMW, he said.
In this year's J.D. Power and Associates' Initial Quality Study surveying new car owners, Cadillac came in third place, behind only Porsche and Lexus.
With its new vehicles, Cadillac is picking off import buyers like Oscar Cabrera, a salesman at Credit Suisse's fixed-income trading desk in Boston. He and his wife went for Japanese models until three months ago, when they bought an SRX for $36,000. "It came down to the features and price. I like the car," Cabrera said. "The interior is very nice. It feels very high end."
Still, while Cadillac has improved its vehicles, analysts say the brand is not clearly defined.
Compared with the German carmakers, it has a lineup of models that bear little relation to one another, from the cushy DTS sedan favored by an older crowd, to the Escalade SUV that attracts superstar athletes and the crisp-handling, rear-wheel-drive CTS.
"You know what BMW stands for, and what Mercedes stands for. Cadillac is all over the lot," said Art Spinella, president of CNW Research in Bandon, Ore. "They have to decide how to make that lineup cohesive."
It's easier to market vehicles when the brand is well defined, he said, and it costs less.
Cadillac also lags in showcasing advanced technology. It rolled out a plug-in hybrid concept at this year's Detroit auto show, the Converj, with a drivetrain similar to that of the Chevrolet Volt. But, says Howell, "that's not a project you'll see in the next couple of years."
Similar considerations led GM to drop the $80,000-plus XLR sportscar. "Part of that's driven by the economic situation GM's in," Howell said.
GM CEO Fritz Henderson has set clear rules: Every model must make money. That means GM will focus on making cars that can generate substantial sales.
GM also has curtailed its ambitions to sell Cadillacs worldwide. While Toyota Motor Corp. is committed to establishing Lexus in Europe, Cadillac is targeting emerging markets such as Russia and China, after its western European distributor went belly up.
Some analysts say a premium brand must be able to hold its own in Europe, the world's toughest premium car market, but others say GM is being pragmatic. "It depends on how you define success," said Rebecca Lindland of IHS Global Insight. "If it's making money, you can do that without western Europe."
Cadillac's No. 1 priority -- and GM's -- is its home market, where it can't afford to be a niche player. "We have to win North America if we're going to win," Hill said. "That's what we worry about when we get out of bed."
Cadillac's focus on American buyers may be one reason why it resisted calls to design a big rear-wheel-drive sedan like the Mercedes S-Class and BMW 7 Series.
The XTS, like the SRX, will come in front- and all-wheel-drive versions, say people familiar with the model. It won't be a "floaty ride," Howell says, but it won't put off Cadillac's loyal big sedan buyers either.
Cadillac may not need a large, rear-wheel-drive sedan, CNW's Spinella said, because the Escalade is effectively the flagship.
But Cadillac hopes the XTS will build on the gains achieved by the CTS. People familiar with its development say Cadillac is taking its interior to a new level, with cutting-edge display screens and fine grains and materials.
At the new GM, it's not enough to launch models that are OK, Henderson said last month. With its survival at stake, every new model has to hit the mark.