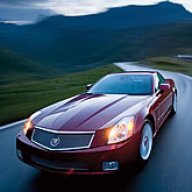 Seasoned Member
Staff member
Site Administrator
Joined

Oct 7, 2006
Messages

5,442
Location
My XLR/V(s)

Not yet!
Car misinformation leaves man stranded
11:00 PM PDT on Monday, March 16, 2009
By JESSE JONES / KING 5 News
FEDERAL WAY, Wash.
– Paul Levy is a soft-spoken guy, but his quiet manner doesn't quite spell Corvette.
"I bought it in 1992, back in my younger says," he said. "I enjoy driving it, but I don't drive it very much."
When the Federal Way resident wraps his hands around the soft steering wheel, it's like entering a time warp. Paul says, "This is like 18 all over again."
Even though Paul likes to rev his engine on occasion, he has treats his baby gently. In 17 years, the Corvette has logged only 44,600. However, one vehicle history report call Paul's baby an "Old Lady."
Just recently, Paul says a car dealership pulled a report which said his vehicle has a lot more miles.
"That car had 126,000 miles on it back in 2002," he said. "I laughed and said the report was wrong."
But Paul stopped laughing when he realized he couldn't sell his car.
"No dealers and a lot of consumers will simply not touch it because of that discrepancy; the implication is suppose being the odometer was turned back," he said.
Paul contacted us when he wanted to correct the data, but wasn't sure which report had the misinformation. We tracked the mileage report to Autocheck, and compared it to the state emissions test. In 2000, the Corvette had 23,000 miles. In 2002, the mileage jumped to 126,000. Two years later in 2004, it was reported down to 30,000 miles.
Remember, Paul only drives this car sparingly. Paul's service records matched the lower total.
We then confronted Autocheck with out results. The report on Paul's Corvette, were changed immediately.
"You have to prove their misinformation is misinformation," he said, "The onus is on you to correct it."
Experian owns Autocheck. They tell us if something is inaccurate on a vehicle history report, call them or e-mail their customer support team. Buried on their Web site, Autocheck.com says it's "Not responsible for errors, inaccuracies or omissions."
But still, they say if you can prove the error, they'll fix it.
You can Autocheck toll-free at 1-888-409-2204 or e-mail them at
customersupport@experian.com
.
If you have a consumer concern, give Jesse a call toll-free at 877-51-JESSE or send an e-mail to
getjesse@king5.com
.