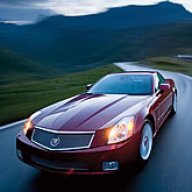 Seasoned Member
Staff member
Site Administrator
Joined

Oct 7, 2006
Messages

5,451
Location
My XLR/V(s)

Not yet!
Consumers to suffer if GM goes under
Higher car prices, the end of incentives and vehicle shortages could occur if GM and other Big Three automakers don't get a bailout, according to experts.

By Chris Isidore, CNNMoney.com senior writer
Last Updated: November 19, 2008: 8:29 AM ET
NEW YORK (CNNMoney.com) -- A bankruptcy of one of the Big Three automakers could hit American consumers hard, industry experts warn.
General Motors (GM, Fortune 500) said on Nov. 7 that it will run out of the cash it needs to operate late this year or early next year. On Tuesday, Chrysler LLC CEO Robert Nardelli told the Senate Banking Committee his firm is also at risk of running out of cash. He and the CEOs of GM and Ford Motor (F, Fortune 500) are seeking financial assistance from the federal government.
Executives at GM have repeatedly maintained that bankruptcy is not an option, and Nardelli said his firm also wants to avoid a filing. But there is enough opposition to a bailout to make a bankruptcy, or even outright failure, of two of the nation's largest automakers a serious risk in the coming two months.
As a result, some experts predict higher car and truck prices, vehicle shortages and difficulty finding replacement parts for owners of American as well as Asian cars if Detroit's Big Three don't get the $25 billion they are asking for from Congress.
"Vehicles could cost anywhere from 5% to 15% more, maybe even more than that," said Michael Robinet, vice president of global vehicle forecasts for auto consultant CSM Worldwide.
Capacity cuts, fewer incentives possible
The main reason prices would likely head higher across the board is that production for the overall industry would be cut by a GM bankruptcy, especially if buyers shun GM models due to concerns about their warranties or resale prices.
GM, despite years of market share losses, is still the nation's largest automaker by U.S. sales volume, with a 22% share.
"Anything that would take significant supply out would shift the market to a seller's market very quickly," said David Cole, chairman of the Center for Automotive Research, a Michigan think tank that is a strong advocate of a government bailout.
Others say that the incentives that many automakers have offered buyers, such as cash-back or low financing rates, may also be a thing of the past if GM goes bankrupt. That could make it even tougher to entice consumers to buy in this tough economic environment.
Sales tracker Edmunds.com estimates the average incentive on each vehicle sold in October was $2,677, up $500, or 23%, from a year ago.
Mike Jackson, CEO of AutoNation (AN, Fortune 500), the nation's largest auto dealer group, adds that a very painful recession could accompany a GM bankruptcy and further eat into the current weak demand for new vehicles.
"The economy is going to be in such a state of shock, with double-digit unemployment, that few people will buying cars," Jackson said when asked about how bad he thought the economy could get if GM went bankrupt.
Bad news if GM goes bankrupt
There are some experts who believe that General Motors and Chrysler will be able to continue operations even if they are forced into bankruptcy.
Still, even if GM and Chrysler were to survive a bankruptcy filing, they might not be able to pay money owed to their supplier base. GM alone owes $28 billion to suppliers as of Sept. 30. A comparable number is not available for closely-held Chrysler. If suppliers don't get money they are owed, some would likely have to shut down themselves.
"Many of the parts suppliers will have to file for bankruptcy immediately - some that day, some two or three days later when banks sweep their accounts and put a halt to their borrowing," said Kriss Andrews, head of the North American auto practice for consultant BBK, who has specialized in bankruptcy among suppliers in recent years.
That would be a major headache for car owners, according to Kimberly Rodriguez, co-leader of global automotive services for accounting firm Grant Thornton.
She said she's worried that many replacement parts will be in short supply if there are the widespread bankruptcies across the supplier base. In many cases there's a single supplier making specific parts. So a closure of a supplier can make it difficult to get a new part.
"The first thing they'll stop making is [replacement] parts," she said about the suppliers. "That's the least profitable business they do. If the production suppliers aren't functioning, the 150 million used vehicles out there are going to have trouble."
Expect a flood of imports if GM can't survive
But bankruptcies at parts makers wouldn't just cause consumers problems when trying to find replacement parts. Because automakers share suppliers, bankruptcies in the parts sector would quickly cut into production of all brands of vehicles made in North America. That would feed into the shortage of vehicles and cause prices to rise.
Ford has more cash on hand relative to its ongoing losses and is not in the immediate cash crisis that GM and Chrysler face. But a GM or Chrysler bankruptcy could spark a cash crisis at Ford as well because of the impact on suppliers. There would also be production problems for financially healthy Asian manufacturers.
"A major portion of the supply base will be decimated. It will be a very small number of days, if not hours, before Ford and Chrysler will be affected (by a GM bankruptcy), and the same is true of Asian manufacturers," said Andrews.
Toyota Motor (TM), Honda Motor (HMC), Nissan and Kia, have 17 North American assembly lines now operating and two more under construction. Together, their North American plants built 3.5 million vehicles in 2007. The Asian automakers will top that total this year - which is more than what Ford and Chrysler will build this in North America this year.
But the Asian automakers' North American plants don't have the excess capacity to make up for the loss of GM, especially if they see disruptions in the supplier base, according to experts.
"There's no way for them to meet demand, even in this reduced demand environment," said Rodriguez. "You can't ramp up production that quickly. We'll be faced with a massive increase in imports."