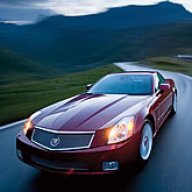 Seasoned Member
Staff member
Site Administrator
Joined

Oct 7, 2006
Messages

5,449
Location
My XLR/V(s)

Not yet!
GM Issues Preliminary Recall of Certain 2007-'11 Vehicles
2016-06-02
DETROIT
– GM is issuing a preliminary recall for certain 2007-2011 full-size trucks and SUVs with passenger-side front airbag inflators covered by Takata defect information reports (DIRs) submitted to NHTSA on May 16, 2016.
NHTSA's
Amended Consent Order
directed Takata to file DIRs for previously unrecalled front airbag inflators using ammonium nitrate propellant without a drying agent. The order requires vehicle manufacturers named in the Takata reports to initiate recalls. Although GM does not believe that a safety defect exists at this time, the company is filing a preliminary recall in cooperation with NHTSA.
GM expects to provide NHTSA with additional test data, analysis or other relevant and appropriate evidence in support of its belief that these GM vehicles do not pose an unreasonable risk to safety.
In its order, NHTSA writes, "the Agency has concluded that the likely root cause of the rupturing of most non-desiccated frontal Takata air bag inflators is a function of time, temperature cycling, and environmental moisture."
Because of the large number of vehicles with Takata inflators and the limited number of available replacement inflators, the NHTSA order sets up a multi-year, risk-based schedule for inflator replacements that prioritizes vehicles and regions of the country that pose a higher risk to safety.
GM believes that its 2007-2011 trucks and SUVs do not pose an unreasonable safety risk at this time. This is based on no inflator ruptures during an estimated 44,000 crash deployments as well as analysis of parts returned from the field, and can be explained by the unique Takata inflator made for GM's vehicles and features unique to GM trucks and SUVs.
For example, the Takata passenger-side airbag inflators used in these trucks and SUVs are a variant engineered specifically for these GM vehicles, and include features such as greater venting, unique propellant wafer configurations and machined steel end caps. The inflators are packaged in the instrument panel in such a way as to minimize exposure to moisture from the climate control system. Importantly, these full-size trucks and SUVs have features and attributes that minimize the maximum temperature to which the inflator will be exposed, such as large interior volumes and standard solar-absorbing windshields and side glass.
GM will continue to test and monitor the Takata inflators in its vehicles.
GM has initiated a third-party environmental conditioning study that will simulate long-term temperature cycling to continue assessing inflator aging and estimate likely service life.
GM also is establishing a part return program that will collect and CT scan Takata inflators recovered from GM vehicles, primarily from the High Absolute Humidity areas believed to pose the highest risks.
GM is continuing to closely monitor and study the performance of Takata airbag inflators in GM vehicles in the field.
If GM concludes at any time that these inflators are unsafe, the company will take appropriate action in cooperation with NHTSA.
This preliminary recall will cover certain 2007-2011 pickups and SUVs including: Chevrolet Silverado 1500, Avalanche, Tahoe and Suburban; GMC Sierra 1500, Yukon and Yukon XL; Cadillac Escalade, Escalade EXT and Escalade ESV; and 2009-2011 Silverado and Sierra 2500 and 3500 pickups.
Because the Takata DIRs are based on both vehicle age and the state in which the vehicle is or has been registered, the specific vehicles and total number of vehicles covered by this preliminary recall will be determined following an analysis of vehicle registration data.
GM will notify customers with vehicles involved in the recall with next steps, and provide updated information via a customer website,
gmtakataairbag.com
, and other channels.
General Motors Co.
(NYSE:GM, TSX: GMM) and its partners produce vehicles in 30 countries, and the company has leadership positions in the world's largest and fastest-growing automotive markets. GM, its subsidiaries and joint venture entities sell vehicles under the Chevrolet, Cadillac, Baojun, Buick, GMC, Holden, Jiefang, Opel, Vauxhall and Wuling brands. More information on the company and its subsidiaries, including OnStar, a global leader in vehicle safety, security and information services, can be found at
http://www.gm.com
.