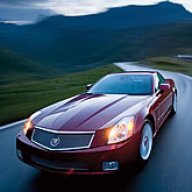 Seasoned Member
Staff member
Site Administrator
Joined

Oct 7, 2006
Messages

5,451
Location
My XLR/V(s)

Not yet!
GM Celebrates Production Of 500,000th Six-Speed Rear-Wheel-Drive Transmission
FOR RELEASE: 2007-12-14
YPSILANTI
– General Motors Corp. announced today the production of its 500,000th six-speed rear-wheel-drive (RWD) automatic transmission at its Ypsilanti Transmission Operations (YTO). The transmission is a key component of the powertrain and is available in certain models of GM's cars and trucks.
A total of $600 million has been invested in the plant for production of six speed transmissions which began in 2005. The investment included facility renovation, new machinery, equipment and tooling.
The plant produces three variants of the six-speed automatic RWD transmission.
The 6L80 was launched in the 2007 Chevrolet Corvette and Cadillac XLR-V and STS-V.
It is also offered on GM's full-size SUVs equipped with the Vortec 6.2L V-8, such as the GMC Yukon Denali and Cadillac Escalade. The 6L50 made its debut in certain 2007 model-year Cadillac STS rear- and all-wheel drive performance sedans and the V-8 powered SRX crossover SUV. Also in 2007, the 6L90, the largest of GM's rear-wheel drive six-speed automatic transmission variants, made its debut in the GMC Sierra and Chevrolet Silverado heavy-duty pickup trucks.
A couple of features make the new six-speed automatic an important design milestone in Hydra-Matic's 67-year history of automatic transmissions:
The Hydra-Matic six-speed transmissions provide an increased overall ratio spread, 6.04 compared to 4.0 of a typical four-speed, to improve performance and fuel economy over the traditional four-speed automatic.
GM's six-speeds use advanced clutch-to-clutch operation, which is designed to improve shift feel. It's a simple, less-complex design that enables the packaging of six gears in the space of a four-speed automatic.
Plant Manager, Kingsley Wootton, said, "I am very proud of this milestone that's been achieved by the men and women of YTO. This is a significant accomplishment that highlights the productivity of the team and demonstrates a commitment to building quality products."
Jim Mull, UAW Local 735 Shop Chairman said, "From the very beginning of discussions between the Corporation and the UAW, our members have been excited to be a part of manufacturing the world's best six-speed transmission. We take great pride in this accomplishment as we do in every product we help to manufacture. This dedication to quality and productivity by our members is an example of our capabilities to succeed."
GM Powertrain's Ypsilanti Transmission Operations is a plant within a plant and occupies one million sq. ft. of the historically significant Willow Run Transmission Plant. During World War II, B-24 Liberator bombers were manufactured and assembled at the facility. More than 8,685 bombers were produced at Willow Run, and in 1943, 42,331 employees worked at the plant – half of them women. In 1980, then Governor William Milliken dedicated the site as an historical site for the role employees played in World War II.
The Willow Run transmission plant produces the Hydra-Matic 4L80-E (four-speed rear-wheel-drive) transmission for full-size trucks, sport-utility vehicles and large vans, and the 4T80-E (four-speed front-wheel-drive) for luxury cars. The plant also produces transmission components for several other GM transmission models.
The site currently employs a total of 2,600 hourly and salaried employees and has an annual payroll of over $300 million.
General Motors Corp.
(NYSE: GM), the world's largest automaker, has been the annual global industry sales leader for 76 years. Founded in 1908, GM today employs about 280,000 people around the world. With global headquarters in Detroit, GM manufactures its cars and trucks in 33 countries. In 2006, nearly 9.1 million GM cars and trucks were sold globally under the following brands: Buick, Cadillac, Chevrolet, GMC, GM Daewoo, Holden, HUMMER, Opel, Pontiac, Saab, Saturn and Vauxhall.
###​
CONTACT(S):
Contact:
Daphne R. Adams
GM Powertrain Communications
Office: (734) 481-7669
E-mail:
daphne.r.adams@gm.com