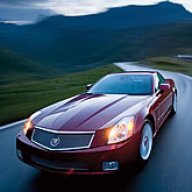 Seasoned Member
Staff member
Site Administrator
Joined

Oct 7, 2006
Messages

5,449
Location
My XLR/V(s)

Not yet!
GM hikes '08 sticker prices
Automaker attributes an average 1.5% increase on models due to growing steel, commodity prices.
Sharon Terlep / The Detroit News
General Motors Corp. will increase prices by as much as $1,500 on most of its 2008 model year vehicles to offset the rising cost of steel and other commodities, the automaker announced Tuesday.
Prices will go up 1.5 percent on average, though certain vehicles "in hotly contested segments" will be spared increases, including the new four-cylinder Saturn Aura sedan and the base model of Chevrolet's made-over Malibu sedan. Consumers on average will pay about $100 to $500 more for GM cars and trucks.
The Cadillac XLR luxury sports coupe will see the largest dollar increase, at $1,500.
"This targeted price increase is designed to partially recover ever-increasing commodity costs," Mark LaNeve, GM North America vice president of vehicle sales, service and marketing, said in a statement.
GM said the increases are effective for vehicles invoiced to dealers starting today. They won't apply to vehicles already in dealer inventories, which will be in showrooms until the end of the year.
The soaring cost of many commodities -- from steel to lead used in batteries -- has been a financial burden for automakers already struggling with a sluggish U.S. auto market. Volatility in oil pricing is having an effect as well, because many oil-based products are used to make vehicles, GM Spokesman John McDonald said. Crude-oil prices are up 45 percent from a year ago.
GM has been trying to strike a balance between keeping its vehicles priced competitively while avoiding deep discounting that has historically drained profits and driven down the value of its cars and trucks. The automaker regularly adjusts pricing, but the last hike linked directly to commodities was in 2006, McDonald said.
GM's ability to recoup materials costs depends less on a vehicle's list price than on how deeply dealers must discount them to sell, said Erich Merkle, vice president of Grand Rapids-based IRN Inc.
"When it comes to the retail sticker price, that really doesn't matter since it all comes back to the transaction price," Merkle aid. "The question is: Are you able to pass price increases to the consumer?"
GM so far is the first of Detroit's automakers to raise its prices in concert with commodities costs.
Ford Motor Co. spokesman Jim Cain said the Dearborn automaker has no increase planned.
Chrysler LLC wouldn't say whether a price increase is planned, but spokeswoman Lori Pinter issued a statement:
"The automotive marketplace is constantly changing and Chrysler LLC continually monitors pricing and incentives in assessing our competitive position within the marketplace and we adjust accordingly."
Staff Writer Eric Morath contributed to this story. You can reach Sharon Terlep at (313)223-4686 or sterlep@detnews.com.