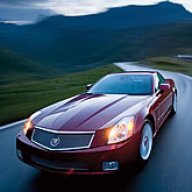 Seasoned Member
Staff member
Site Administrator
Joined

Oct 7, 2006
Messages

5,451
Location
My XLR/V(s)

Not yet!
GM nameplates shrinking from 47 to 34
Richard Truett
Automotive News
April 27, 2009 - 11:12 am ET

DETROIT
-- As General Motors ends production of Pontiac, Saturn, Saab and Hummer vehicles, the number of nameplates will shrink to 34 from 47, GM CEO Fritz Henderson said today.
Some of the vehicles being phased out, such as the newly launched Pontiac G8 sports sedan, Solstice coupe and Hummer H4T, never had a chance to gain traction in the market. They will not be rebadged as vehicles for other divisions, Henderson said, but will end production completely.
He said the reduction in divisions and nameplates will enable the revamped GM to put more marketing muscle behind its four surviving brands: Chevrolet, Cadillac, Buick and GMC.
"The key here is how do we actually get behind and win with four core brands," Henderson said. "We want to make sure we are putting our resources behind brands where we can win the marketplace."
Henderson said the reduction in nameplates will enable GM to support the remaining vehicles in its divisions with "adequate capital and engineering resources and strong and adequate marketing and advertising resources."
Through March, sales of Pontiac, Saab, Hummer and Saturn totaled 66,768 or 16.2 percent of GM's total sales of 409,702, according to the Automotive News Data Center.
No vehicles will be cut from the four surviving GM brands. All of the cuts to existing nameplates will come from the brands GM intends to discontinue, Troy Clarke, GM's president of North America, said today at a media event. He said that for brands such as Chevrolet, GM intends to actually add nameplates over the next few years.
Clarke would not say whether some future vehicles intended for Pontiac vehicles could be become Buicks. Clarke did say, "We want to continue to develop the Buick brand, and that'll mean adding products to the Buick lineup."
Jamie LaReau contributed to this report