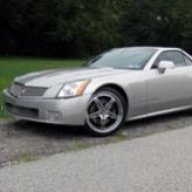 Joined

Jan 1, 2009
Messages

322
Location
My XLR/V(s)

2006 Silver XLR-V
After buying the D3 headers & cats last spring, I finally got them installed... Initially I thought I'd take them to a shop to get installed, but I decided to tackle them myself.
It was a huge pain!
I got one side in over a weekend, and it took a couple of trips to the store to get the right tools. But the other side went on in about 3 hours without a problem.
I ended up doing it on a set of four jackstands and without having to lower the engine cradle. (the service manual states you can only do this by lowering the entire engine - which is why I thought I wanted to take it in to get done)
The exhaust note has changed a bit, but not a huge amount... I have a rough tune that was done for my by Wait4me but it'll be going in to Hennessey for dyno-tune when I get a chance in the next few weeks. I'll post the final dyno numbers with all my mods then.
Photos follow: