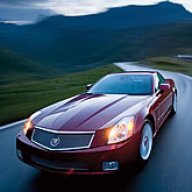 Seasoned Member
Staff member
Site Administrator
Joined

Oct 7, 2006
Messages

5,442
Location
My XLR/V(s)

Not yet!
2009 SAE WORLD CONGRESS


Is the V-8 a dying breed?
Richard Truett
Automotive News
April 21, 2009 - 2:44 pm ET
DETROIT
-- The V-8 engine, a symbol of power and prestige for nearly a century, is looking more and more like an endangered species.
A panel of powertrain experts speaking here today at the 2009 SAE World Congress painted a bleak picture for big engines in this era of tightening emission standards and volatile fuel prices.
But smaller engines will not mean drivers have to give up performance.
By combining advanced engine technology, lower vehicle weight, sleeker aerodynamics and more efficient transmissions, smaller engines can replace bigger ones without affecting acceleration and towing performance.
Mary Ann Wright, CEO of the Johnson Controls-Saft joint venture battery company, said the United States has started to move closer to other countries' emission regulations since the Obama administration took over in January.
She said last week's proposed EPA finding that greenhouse gases are harmful to humans lays the groundwork for legislation that will see the U.S. reduce carbon dioxide emissions in step with other countries.
"You are going to see the discussion starting to shift to not only reducing fuel consumption but CO2," Wright said.
The trend of replacing big engines with smaller ones is under way and presents the best near-term solution for automakers to reduce CO2 emissions and improve fuel economy, SAE several panelists said.
"The cornerstone of our sustainability strategy is EcoBoost," said Dan Kapp, Ford Motor Co.'s director of powertrain research and advanced engineering.
EcoBoost debuts this spring on the Lincoln MKS luxury sedan. In that car, the 3.7-liter engine is replaced by a 3.5-liter engine equipped with twin turbochargers and direct fuel injection. Horsepower is rated at 355 -- about the same as a V-8 -- but the EcoBoost engine has better fuel economy.
General Motors already has launched vehicles such as the Pontiac Solstice GXP with smaller turbocharged engines. But Ford plans to make EcoBoost available on 90 percent of its nameplates by 2012 and wants to sell 500,000 EcoBoost vehicles a year in the United States and 750,000 globally by 2014, Kapp said.
Minoru Shinohara, a senior vice president at Nissan Motor Co., said technology alone won't deliver all that is needed to meet global emissions standards. A large contributor, he said, can be driver behavior.
Nissan is developing several in-car technologies that warn, prompt or help a driver consume less fuel. One is a touch pad on the accelerator pedal that pushes back slightly if the driver increases speed too much.
Nissan also has installed in several models a device called an Ecometer that keeps the driver informed about the vehicle's performance and of road conditions.
"A customer can check his fuel economy performance against other drivers on the Internet, just like a video game," Shinohara said.
He also described a driver information system called Carwings that Nissan is testing in Los Angeles and Yokohama, Japan. The system alerts drivers to traffic backups and routes them away from them. Shinohara said early results show that avoiding congestion delivers an 18 percent fuel economy gain.
Suppliers such as BorgWarner Inc. are working on more efficient turbochargers and transmissions to help vehicles use less fuel.
One system BorgWarner is developing is a chain-driven starter-alternator that could eliminate the old-fashioned rubber fan belt, said Roger Wood, BorgWarner's executive vice president of turbo and emissions systems. He also predicted that the application rate of turbochargers on gasoline engines would grow 135 percent by 2014.
"Turbocharged engines offer 15 percent to 30 percent better fuel economy and as much as 20 percent reduction in CO2 emissions," Wood said.
Smaller turbocharged engines could account for as much as 20 percent of the market by 2014, said Uwe Grebe, GM's executive director for advanced engineering.