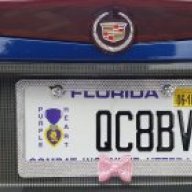 Joined

Jul 21, 2017
Messages

3
Location
My XLR/V(s)

2004 Xenon Blue XLR

Hello everyone! I am new to all this, so bear with me as I find the time to do this, and learn my way around the forum. I just received an early wedding gift from my fiance, a 2004 Xenon Blue XLR, my dream car! To start from the beginning, we met on-line 2 years ago, and then met in person at a car show in May 2015. After finding out we both had a love of cars, Cadillacs, Corvettes, Jaguars, and cats (not necessarily in that order! LOL), the chemistry was over the top.
This past May was our 'anniversary'... we had lunch at the same place where we had our first date 2 years ago. And at the same car show. They hold this charity car show event every year, and this year we were there with our Corvette Club. He proposed during our lunch. I was totally surprised, even though we spoke about getting married, it slipped my mind that he could possibly pop the question there.

So fast forward to a few weeks ago, we were driving home from church and his eye caught a Xenon Blue XLR parked at a used car dealership. We decided to just "window shop" and stopped to see the car. Next thing I know, we are test driving it. At first, I wasn't crazy about the dark interior, but the wood panel accents really caught my eye and made me think twice. I thought, hmmm... maybe I could live with the color. After all, I was already in love with the exterior! It was a gorgeous color, only 36,000+ miles, and a clean car fax report. I guess the look on my face was enough for Sal, my fiancee, to do whatever he had to do to get me this car. I found out later that he had been searching long and hard for my dream car, and with the wedding coming up, it made perfect sense to him. The light bulb went off... My dream car = his wedding gift to me! Sal is a wonderful, thoughtful, considerate human being and I feel very blessed to have met him. He's changed my life in many ways. The car is just a perk. He's a wonderful guy regardless of how he spoils me from time to time. And I wouldn't trade him for all the money in the world!

Back to the XLR, now we (he) is in the process of redoing what he can with the interior, changing it to shale. It's going to look fabulous! The light and dark contrasts really make the interior pop and I can't wait to see how it all comes together. I'll post more pictures as we go along. He is on the forum as well, under
Wife's XLR
. He had pinstriping put on the car, silver and a light pink... sounds crazy but it really looks great on the car! Just enough of a silvery type pink to make it a 'girl' car. And today he surprised me with a license plate bezel I had my eye on. Of course it has it's bling on it, and a pink bow on the bottom. I've posted a photo of that as well (also my avatar, lol).



We are getting married in Sept up in New Jersey, where most of our family still lives (I'm a Jersey Girl, he's from Long Island). After finding out there is a 3 day waiting period to get your marriage license in NJ, and we aren't flying up until 2 days before, we won't be able to get the license in time. So we are going to really get "married" down here, in Key West, at the Hemmingway House. Just a short and sweet ceremony with just us and their 6-toed cats. Then we will have a ceremony in front of our families up in NJ in Sept. Phew! Talk about wedding planning... it's enough to drive anyone to run away and elope. Now I understand why people do that! This is not my first marriage, but it's been a while since I've planned anything like this. But I'm getting excited, in between the stress and getting ready to pull my hair out. After a couple months, this will all settle down and I'll truly be able to take my top off... the car... and enjoy the ride!