Joined

Sep 23, 2020
Messages

11
Location
My XLR/V(s)

2007 Infrared XLR-V
Hi guys..
last winter I had a message about (overheating turn off AC).. so I took my XLR-V to my mechanic and we replaced the thermostat and the sensor..
everything went well.. but now the temperature exceeds the half and sometimes it reaches 3 quarter then it starts to go down to just under the half, or sometimes I should turn the car off and on or turn ac off and on and then the temperature starts to go down..
the normal and usual thing was that the temperature is just below the half.. sometimes it reaches the half.. but it's not usual to exceed the half in this way.. please find attached photos.
it's like there is something that is supposed to work and it doesn't work until late (fans or something)..

I don't think that my mechanic did something wrong while replacing the thermostat because everything was good for around 6 months more or less, though I don't use the car in a daily bases.
thanks fellas, all thoughts are appreciated..
over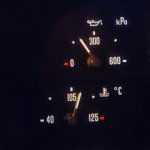 normal